Sweet Teeth - Wedding Cake Alternatives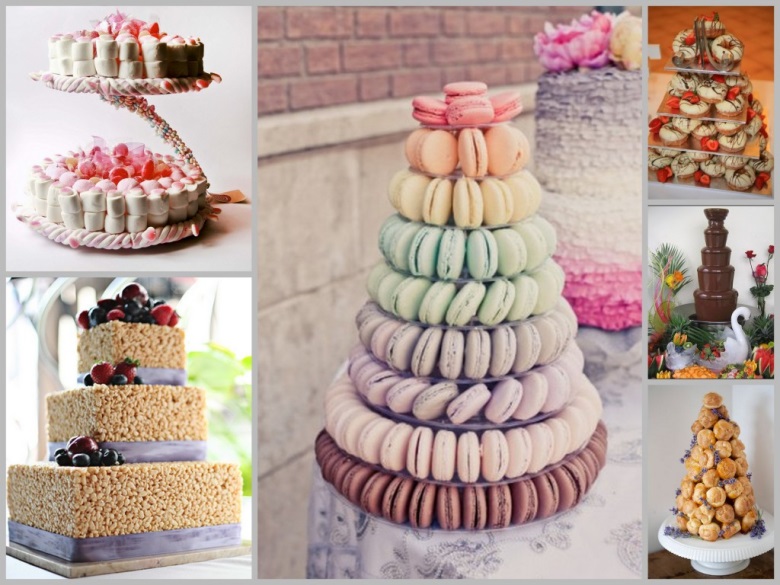 Wedding cakes can be delicious. Still, they are very much a traditional part of a very special day; and tradition happens to be something that certain couples just want to avoid. Your wedding day gives you a once-off chance to celebrate your unique love in a very special way, and many couples feel that tradition just does not communicate the nature of their bond and union. For this reason, there are a number of sweet alternatives to the traditional wedding cake.
The following ideas are simply intended to spark some creativity and innovation. Think about them and try to personalise them in a way that is meaningful to you, as a couple:
Comfort food – if you and your spouse-to-be have a favourite food that you always resort to on a Sunday afternoon or when you go on holiday, you may incorporate this somehow. Hot chocolate or Horlicks milkshakes and marshmallows are sure to go down a treat if these represent the tastes of the newlyweds.
Create a "sweet shop" effect by displaying a range of boiled sweets, fudge, chocolate, Turkish Delight, jelly sweets, nougat and so on in big glass jars or aluminium ice cream buckets. Encourage guests to help themselves and put their sweets into branded brown paper bags. These bags can have a personal 'thank you' note on them, making your dessert double as your guest gift.
If your first date involved an iconic dessert (such as candy floss or caramel popcorn at the movies), create cute containers of this with a short note telling your story so that guests can appreciate the significance.
Opt for a fresher, healthier approach to refresh and cleanse the palate by giving each guest an assortment of fresh fruits. Make it a little more decadent by including crème fraiche, custard or ice cream on the side. Alternatively, simply give each person a fruit sorbet, which is light, healthy and refreshing.
If you or your new partner is of a specific ethnic descent that is different to that of most of the guests or the country in which you are getting married, offer a traditional dessert in place of the wedding cake. Even as a South African couple in South Africa, you may want to celebrate your roots by offering melktert, koeksisters and mosbolletjies for something completely different.
A cheese platter is stylish, flexible and the perfect way to round off an evening of fun. Include preserved figs and dried apricots for a sweet element.
Give guests a taste of one of your favourite childhood desserts, such as jelly and custard, ice cream with Hundreds and Thousands, chocolate mousse, coconut ice or Twinkies. This is fun and will, no doubt, bring back memories for many of your guests.
If there is a specific fast food outlet or restaurant that is meaningful to you, as a couple, ask them to provide the dessert. This could include Milky Lane Waffles, a MacFlurry or gourmet pancakes from your local bistro. Be sure to explain the background to your guest so as not to have them completely confused as to why they are receiving take-aways at your wedding.
A truffle platter is sure to get your guests excited as they are able to choose specific flavours from a range of choices. In addition, they can have one truffle if they are full or many if they have a particularly sweet tooth.
A chocolate fondue is a fun, interactive way of enjoying dessert. Have a fondue pot in the centre of each table and provide marshmallows, fruit, biscuits, etc... so that guests can choose what they would like to dip into the rich, melted chocolate. This also gives them the opportunity to enjoy a little or a lot of dessert.
Photo Credit: www.forherandforhim.com