Wedding Cornhole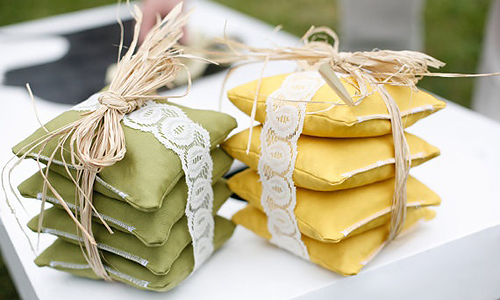 Your wedding is a time for you and those most special to you to enjoy your day of romance and love. Depending on your theme, time of day and guest list, making the most out of your day may include playing fun games. These games are a great way of keeping guests, young and old, entertained while you (as the bridal couple) have your photos taken, mingle, or simply enjoy being with your friends and family.
Corn Hole is a really old, but always fun, game that involves tossing a bean bag at a board with a hole in it. The board is raised at one end, and the object is to throw the bag right into the hole for maximum points. Three points are awarded for a bag going into the hole, and one point if the bag lands on the board. The winner is the first person to get 21 points.
If you decide to include a game of Corn Hole in your wedding day, provide clear instructions, or employ someone to man the area and explain the rules to those wanting to play. Ensure that children are supervised at all times for their safety.
This is a great choice for weddings that take place during the day and / or outside. It allows guests to enjoy the fresh air and sunshine, and encourages everyone to simply enjoy being relaxed. It also makes for a fabulously fun photo shoot.