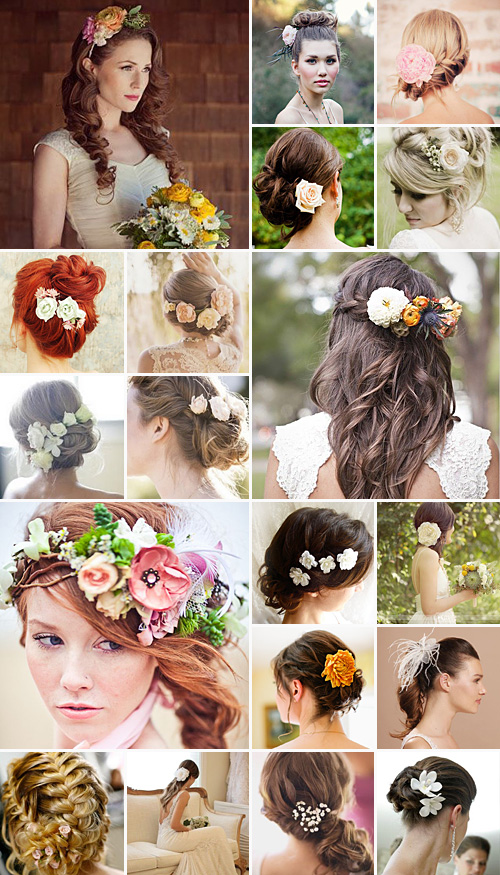 Adding floral details to your hair on your wedding day adds romantic flourish to your look. And with such a wide variety of hairstyles and flowers available, you are sure to find something to suit your style.
Brides have worn flowers in their hair for centuries. Ancient Greek as well as Roman bridal couples wore floral crowns on their wedding day. This was a symbol similar to exchanging wedding rings today.
Flowers you can use in your hair include roses, daisies, lilies, peonies, gardenias, baby's breath, jasmine, orchids and carnations. Be sure to choose the right flower to suit your hairstyle and dress. You can wear any style or arrangement, depending on the look and feel you want to create. They usually match the other wedding flowers in color, type and style. Flowers in the bride's hair can range from a single bloom to larger numbers used in place of the veil. Larger blooms look better for simple dresses and hairstyles, while smaller arrangements work best for dresses with more details and frills.
Tips on using fresh flowers in your hair
Consult your florist and hairstylist during the planning stages of your wedding. Your hairstylist will be able to suggest which hairstyles and flowers will suit your face, coloring and features. Your florist will be able to warn you about flowers that can't be used near your skin, since they may cause skin irritation.
Store the flowers in the refrigerator until you are ready to use them.
Use hairspray and other styling products BEFORE adding your blooms, since the products might damage delicate flowers.
If it's not too expensive, it might be a good idea to have a trial with the type of flowers you will be using on your wedding day. This way you can see how long the flowers will last. Ideally they should not lose their beauty or wilt after a couple of hours.
Be sure to remove any part of the flower that could get pollen all over your dress!
If you are not keen on using fresh flowers, you can always use floral accessories. There are so many flower hair clips, floral pins and faux flower accessories available and these days they look really authentic.