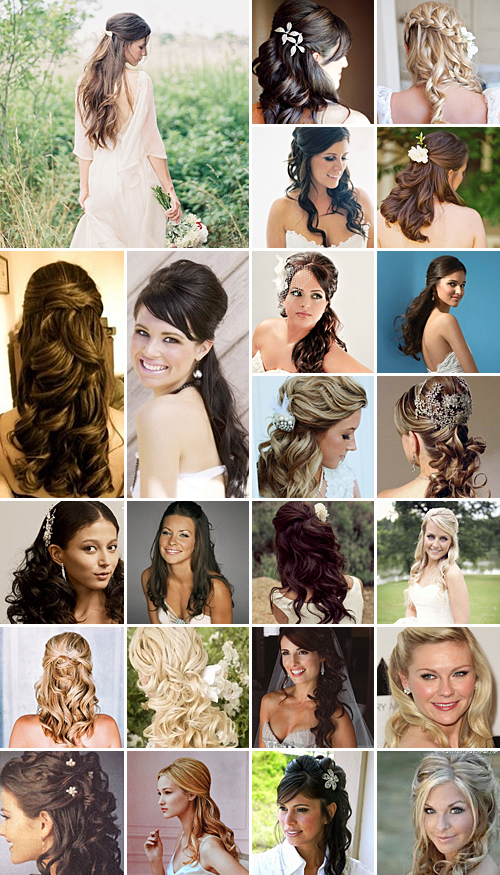 Like men so frequently like to point out, us women are quite indecisive – should I wear my hair up or down? Thankfully there's a range of hairstyles that come to the rescue – the half up, half down hair-do. This lovely and feminine style comes in all shapes and sizes and can be implemented to suit just about any facial shape or skin tone.
Tight princess curls are something of the past, well for the time being at least, and instead we're seeing plenty of free-flowing natural waves, messy up-down styles and softer versions of the princess style. The greatest benefit of a half-up-half-down style however, is that there are no rules. Simply adapt it to fit your face – whether it's by moving a strand, swooping up a piece of hair or adding an extra twist.
Here are a few topsy-turvy ideas for an up-down style with pizzazz, as well as bits and bobs to jazz it up:
Braids: Whether you opt for a braided crown (where to braids meet at the back) or a small braid down the back of your head, braids naturally add a fairy tale whimsy to any ensemble.
Hair twists: Like the humble braid, the hair twist is one of the "it"-styles of the season – it's as simple as taking a strand of hair, twisting it a couple of times and pinning it into place.
Cascading side-pony: This style has a very natural feel to it and is oh-so feminine. With some of the hair pinned back, the remaining hair is arranged into a messy pony, cascading down the shoulder.
Flowers: Fabric flowers, real flowers, paper flowers, blingy flowers – if you're going to pin your hair back, you might as well do it with a flower.
Hairbands: Not only are they practical in keeping the hair in place, but hair bands have a way of turning a simple style on its head. Wear them at an angle, across the forehead or in double doses.
Tiaras: It's no secret that brides have mixed feelings about tiaras – some adore them, others loathe them. The secret to wearing a tiara, is to only wear it with simple wedding dresses and very few jewellery pieces in order to side-step the poufy princess look and create the perfect up-down look.
Chat to your wedding hair stylist about what will work best for your face, hair and over-all wedding "look".
For more Half Up, Half Down wedding hairstyles, the original photos above and their credits, make sure to check out our Half Up Half Down Wedding Hair Pinterest Board!