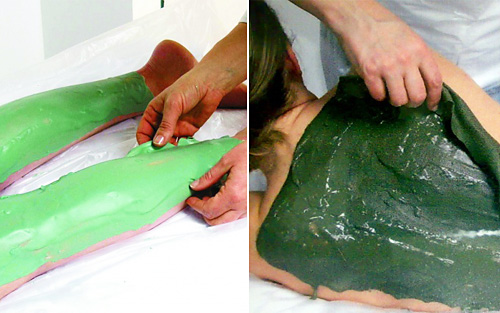 Here are a few questions and answers for guidance for the bride to be to choose a suitable wrap of her choice.

QUESTION 1
Do you offer body wraps and are there different options and what product range does your salon use?
Yes, we offer a selection of body wraps; ranging from slimming wraps, to detoxifying wraps, anti-ageing wraps, bust firming wraps and chocolate wraps. We use the range called SPA SOLUTIONS.

QUESTION 2
What does the preparation entitle?
Firstly the therapist will start off with a full body scrub using 2 tablespoons of spa solutions Atlantic sea salt, mixed with the detox,slimming or a relaxing oil from our range, It also depends on the choice of wrap the bride chooses.
This is for the removal of dead skin and the unwanted impurities to enable better penetration of the ingredients which is in the wrap that has been applied directly after the scrub has been done.

QUESTION 3
Benefits of the different body wraps?
Detox wrap
Improved overall health and well being
Slows down ageing process
Slimming wrap

Inch-loss through lipolysis (the breakdown or destruction of fat)
Faster burning of calories through thermo genesis
Soft and supple skin
Anti-ageing, Anti oxidant wrap

Powerful free radical scavengers
Delays the onset of ageing
Provide amino acids (the building blocks for the protein) thereby ensuring strong, healthy tissue and strong collagen reserves
Bust firming wrap

Soft, smoother skin on the breast
Increases in collagen and elastin leads to firmness
Cold effects of menthol tones

QUESTION 4
The bride has just got engaged, when can she start coming for treatments?
Depending on the result that she wants for example: Inch loss- she would therefore need to come for the slimming wraps and she would need between 8-10 session once a week or once every two weeks.
If her skin is in need of hydration and improvement of dryness on the skin the chocolate body wrap would be ideal for the bride to be as it is has moisturizing properties.
If the bride wants removal of toxins and waste in the body, the detox body wrap would be the perfect choice. She would also need to visit the salon and have 6-10 sessions, once a week or once every two weeks.
If the bride to be is in need of rejuvenation of the skin then the anti-ageing body wrap would be a super choice for her. She would then to have 5-10 sessions once a week or once every two weeks.
If the bride to be feels she is in need of a slight lift in the bust area, the bust firming wrap would be the perfect choice for her. She would have a course of 4 bust firming treatments every 6 months.

QUESTION 5
Regards to homecare/maintance, what does a bride need to do?
She would have to have a healthy diet plan, it works in conjunction with the wrap and it will help her achieve an even better result.

Regular exercise would contribute to an even better result.
The bride to be has to stay hydrated and drink lots of water in aid of the removal of the waste and toxins.
She could purchase Spa solutions body shape and tone to help refine body contours and to help firm and tone.

QUESTION 6
What is the cost?
The cost of the body wraps are ranged between R250-R500.

To book call: O21 671 5611
Article by: Carla's School of Beauty and Therapy Salon
Therapist: Tarryn May