Bridal Body Paint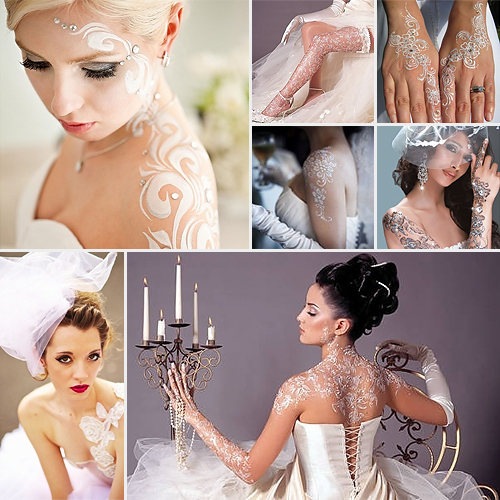 Body paint is generally associated with all things exotic, mesmerising, breathtaking, mind-blowing and, in many cases, a little bit naughty – everything a bride wants to be on her wedding day. Then again, your first thought of body paint might be tasteless designs and erotic women. However when approached with tasteful sense and the right amount of finesse, body paint can take your bridal ensemble to a whole new level.
What's lovely about body paint is that it allows you to adorn your body like no piece of fabric or jewellery can. We also love the idea of complementing jewellery and dress with body paint – for instance, if the wedding dress has a low-cut back, complete it with body painted patterns along the sides of the fabric.
When choosing your design, think fire dancers, acrobats, ice skaters, fairies and gypsies, in order to keep it whimsical and feminine.
Draw inspiration from Indian culture by having your hands and feet painted with a lovely and intricate henna design.
Don't forget about face paint – perhaps an exotic curly design around your eye or a floral print creeping up the side of your neck.
If you're wearing a short dress or want to surprise hubby when he ducks underneath to retrieve the garter, have your one leg painted with a sexy lace design.
Instead of wearing warm gloves in the middle of summer, have your hands and wrists painted with a lacy white pattern.
Have your vows inscribed on your arm or your wedding ring painted onto your finger to make this key moment in your life so much more special.
Set up a body painting station where guests can have their hands and faces painted (in a more stylish than carnival sense) while enjoying a cocktail at sunset.
If you're getting married on the beach and hubby's got a body to flaunt, convince him to go shirtless and have his torso painted with a sexy tribal design.
NOTE: Ensure that you're using a non-toxic paint that won't run at the first sign of tears or beads of sweat.
Original images above and their credits available on Pinterest