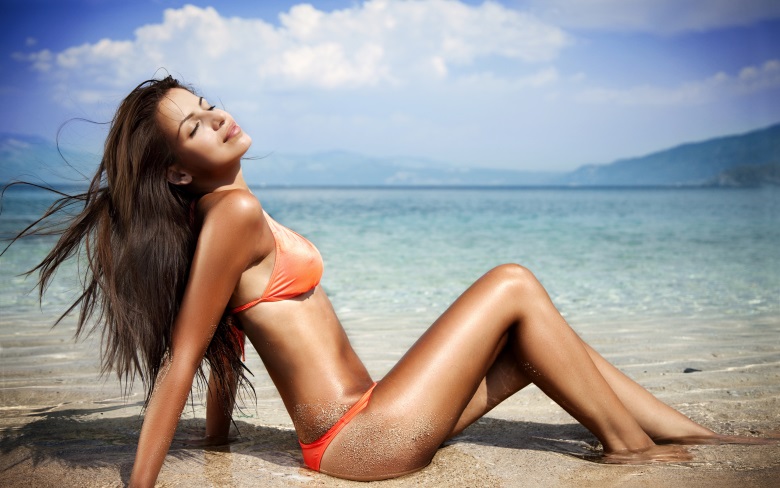 In preparation for your wedding day, you likely underwent a stricter hair- and beauty regiment than ever before. Perhaps you learnt some new make-up tips or found a new colour that suited your complexion. Do not revert back to your pre-wedding regime as soon as you say the "I do's", but maintain your gorgeous radiance afterwards, so that you can feel and look your best.
Your honeymoon may be a time of relaxation, but that does not mean that you have to look shiny or drab in every photograph. The following tips should keep you looking in great condition while you enjoy your first holiday together as a married couple:
Hair
Wear a hat or scarf when in harsh sunlight or wind to protect your hair from the elements.
Use a good-quality conditioner to restore your hair's moisture.
Rinse your hair after every swim to rid it of harmful salt water or chlorine.
Leave your hair loose if it suits you; otherwise pack a few cute clips and feminine accessories. Do not simply resort to tying it into a ponytail as you will not look or feel feminine.
If your wedding hairstyle allows, try to get a good cut just before your big day so that your hair is in great condition before leaving for your honeymoon.
Do not neglect your hair dryer, straightener and products when on honeymoon. These go a long way in achieving the perfect hair. This way, you can alternate between a casual tousled look, sleek and straight, and a formal curl.
Make-up
You only need a few key items to ensure that you look radiant and gorgeous all honeymoon long.
Keep your day make-up natural and healthy, avoid using too much.
Use bronzer instead of blusher.
Use a sheer colour on the eyelids.
Opt for lip balm or tinted lip gloss instead of lipstick, particularly during the day.
For a more dramatic look at night, plump up your lips using lip liner (colour the entire lip with the pencil) and then fill them in with a complementary lipstick. Top the lipstick with balm to give it a glossy look and to ensure that it stays on for longer.
Put foundation on your entire face (including eyelids) before applying make-up. This will make it stay on after a long day of exploring and sightseeing.
At night, define your entire eye socket with a sheer colour and then line the top eyelid with an eye pencil. Apply at least two coats of mascara for romantic, full eyelashes.
Use a white eye pencil to line your lower eyelids for a fresh, clear, bright look.
Underwear
You do not need to look like one of the catalogue models to look great in your honeymoon underwear.
Do not buy items that you love if they do not look fabulous on you. You will end up looking and feeling self-conscious.
Ensure that your honeymoon underwear is comfortable.
When choosing the underwear, keep the taste of your new spouse in mind. You want your partner to like the underwear too as this is a gift for the both of you to enjoy.
Make sure that your underwear fits you perfectly – not too big or too small.
Bring a combination of 'naughty' and 'nice' pieces, so that there is some variation.
Choose a colour that suits your complexion.
Bear in mind that darker colours are usually more slimming and will suit girls that are self-conscious about certain aspects of their bodies.
Corsets are a great way to make small breasts appear a bit fuller.
Ladies that are concerned about their stomachs should opt for a one-piece that covers their tummy so that they are not concentrating on hiding it or pulling it in all the time.
If you have large thighs, choose something with a tiny skirt in sheer fabric.
Photo Credit: wall.alphacoders.com