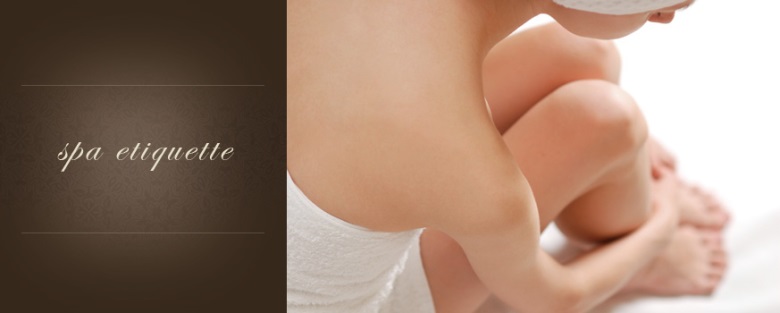 The time before your wedding (or that of someone close to you) is exciting, fun and, it must be said, stressful. To make the most of the planning experience, many brides-to-be, grooms-to-be and even those in the wedding party (such as bridesmaids and best men) are urged to indulge in a trip to the spa for beauty treatments, massages and so on. These aid in overall stress-relief and relaxation, and will address specific issues, such as knots in the neck or certain skin problems.
However, when visiting the spa, there are certain unspoken rules that should be adhered to. These will make the therapist's job easier and will, ultimately, allow you to enjoy your treatment more fully.
These guidelines and expectations include:
Do not be late for your appointment. In fact, try to arrive about 10 to 15 minutes earlier than the time booked so that you are able to get ready.
Make sure (for your sake and that of others that are trying to relax) that your phone is off or on silent mode.
For massages, you will need to be completely or partially naked. The therapist will tell you what they expect from you. Although generally respectful of inhibitions, refusing to remove an article of clothing will likely make the therapist's job more difficult.
The therapist needs a certain amount of time to perform certain therapies or treatments. Allow this time and do not expect any freebies (for example, resist the urge to say, "while you're massaging my feet, would you mind removing my nail polish too?").
If you would like the therapist to press harder or more gently, or to focus on certain areas, it is acceptable to express this to them.
Feel free to remain silent, or to make light conversation. Try not to use this time to 'offload' as you are then unable to get the full benefit of the treatment.
Do not bring your children with you.
When using the ablutions or the therapy room, remember that others have to make use of these facilities too. Leave them in an acceptable state.
Leave the room shortly after your treatment, even if the therapist urges you to take your time. The next patient may be waiting for their appointment.
On booking your appointment, find out if gratuities are included in the therapy price.
Never expect to be accommodated if you have not made an appointment.
Be polite to the staff members.
If you are called out to an emergency, or if you are experiencing pain, you have every right to stop the treatment and leave.
In addition to the protocol for those receiving the treatment, the therapists and spa themselves are expected to fulfil certain obligations. For example, you should be able to trust that details regarding your body and any ailments will remain confidential, that your therapists are appropriately trained, that your environment is hygienic and that you will be treated with dignity and respect.
However, in addition to all of these expectations, requirements and obligations, the reason that you will be visiting the spa is likely to aid you in your relaxation and / or pain-relief. So, the key is to relax and put yourself in the capable hands of the therapist.
Photo Credit: www.greenroomspasalon.com