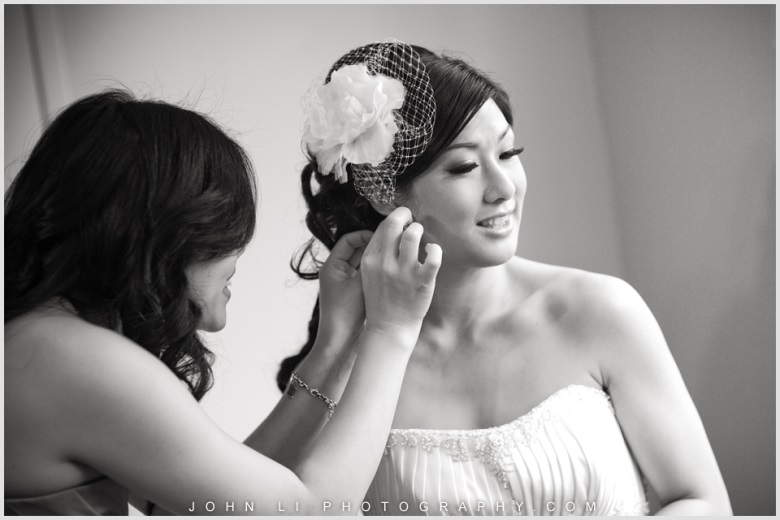 Deciding on the hairstyle you will wear for your own wedding can feel like a harrowing prospect. Whatever style you settle on, make sure that you feel spectacular in it. Your hair should flatter you and compliment your wedding dress. More than that, its style and condition should be extra special so that you feel all the more beautiful on this magical day. The most important thing, though, is that your hairstyle reflects your own tastes and personality, rather than coming straight out of a fashion magazine.
The first step to choosing a wedding hairstyle is to think about the theme or tone of your wedding. Is it going to be a relaxed luncheon for only close friends and family, or a grand affair in a banqueting hall? In general, up-styles are considered to be more formal, while loose or tousled styles work better for more casual occasions.
It is wise to collect pictures of wedding hairstyles or formal hairdos that you like and think may work for your big day. Do not only stick to bridal magazines. Scan gossip tabloids and the fashion pages for styles that can be tailored and used to create the specific look that you have in mind. Remember, though, that looking trendy should not be accomplished at the cost of beauty and elegance. Trends come and go and you do not want to look back at your photographs in 10 or 15 years and regret the decision you made. To prevent this, maintain a timeless classical approach to your hairstyle. Generally speaking, brides-to-be with round faces should opt for off-center partings and a bit of height, while those with square jaw lines usually look better with soft, wispy styles.
Remember that guests and cameramen will be seeing you and taking photographs of you from every angle. So, before leaving the salon, make sure that your do looks good from behind and from the side as well.
Consult with your hairdresser or hair stylists long before the time to ascertain what he or she needs from you to be able to make your style work. Some styles work better with hair that has not recently been washed, for example. Also, mention any accessories that you may like to include in your style. If you have a collection at home, bring these to your trial session. Otherwise, buy them before the trial and take them along so that you and your stylist can settle on an appropriate style. You should definitely try to take your veil, fascinator or tiara and a picture or drawing of your wedding dress to the trial session to see if and how that will work with the style you have chosen.
Once you have the trial style in your hair, see how long it stays in form without touching up so that you can be sure that you will be able to make it through the ceremony and reception without your gorgeous style collapsing.
The key to great wedding hair is feeling beautiful and being confident that others agree. So, do not compromise on a style that you are not crazy about just because you can't think of something better or are shy to find fault with the stylist's suggestions. Make sure that you find the perfect style to make you look and feel gorgeous.
Photo Credit: www.weddingpartyapp.com