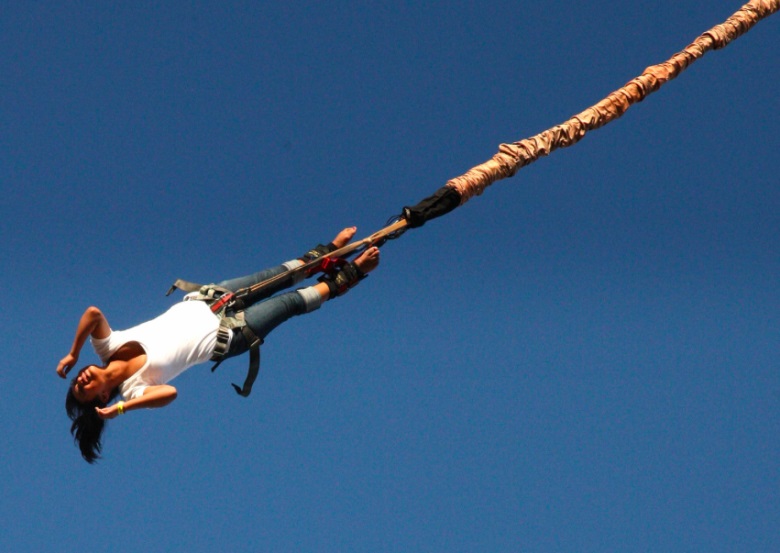 For couples looking to spend their honeymoon enjoying adrenalin-pumping activities, the Garden Route offers the ideal destination. This famous route's official borders are Storm's River and Mossel Bay. Along this stretch are some of the most breath-taking views in all of South Africa. It is also well-equipped in terms of infrastructure, restaurants, accommodation, activities, attractions, facilities and amenities. Newlyweds will enjoy a jam-packed itinerary that includes some (or, if you are feeling really brave, all) of the following activities:
Bungee Jumping
Bloukrans Bridge offers visitors the world's highest commercial bungee jump at an impressive 216 metres. This pendulum bungee is sure to get your heart racing (or skipping a few beats). There are also bridge walking tours (conducted on a hanging path strung beneath the bridge) and the Flying Fox, which is a cable slide that extends 200 metres to the archway of the bridge.
Contact: Face Adrenalin www.faceadrenalin.com / +27 42 281 1458
Deep-sea Fishing
Experience the thrill of the ocean waters and reeling in some of its impressive catches. Fresh air and salty water is the ideal combination for a carefree, adventurous oceanic experience.
Contact: Ocean Safaris www.oceansafaris.co.za / info@oceansafaris.co.za
Whale- and Dolphin Watching
The area of coastline that stretches all the way between Cape Town in the Western Cape and Durban in KwaZulu –Natal is famous for its marine diversity and profusion. Dolphins often make their appearance as they leap out of the water in playful gestures. Between July and December, thousands of tourists flock to the coast to witness the annual migration of the Humpback and Southern Right whales, which can often be seen with their calves.
Contact: Ocean Safaris www.oceansafaris.co.za / info@oceansafaris.co.za or Ocean Adventures www.oceanadventures.co.za
Shark Cage Diving
Mossel Bay is the site of White Shark Africa, an adventure company that allows visitors to dive with the Great White Shark within the protection of a metal cage. Seeing these graceful, powerful creatures just metres away is a memory that will last a lifetime.
Contact: White Shark Africa www.whitesharkafrica.com / info@whitesharkafrica.com
Tsitsikamma Canopy Tours
Witness the splendour of the exquisite Tsitsikamma Forest from the elevated platforms of the tree tops. Canopy tours involve sliding between the trees, up to 30 metres above the forest floor, in a harness. This is truly spectacular.
Contact: Tsitsikamma Canopy Tours www.stormsriver.com
Mountain Biking
The Garden Route is characterised by stunning vistas and gorgeous scenery. There are a number of mountains, valleys and passes through which to meander or compete on your mountain bike.
Skydiving
Skydive Plett offers honeymooning couples and visitors the thrilling chance to feel the exhilaration of freefalling from a plane with only a parachute to rely on.
Contact: Skydive Plett 082 905 7440
Tubing
Tube the waters of the Storm's River Gorge to get your heart racing while you enjoy the untouched beauty of the surrounds. Afterwards, indulge in some rock jumping or hike through the gorge for picturesque views of the surrounds.
Contact: Blackwater Tubing www.blackwatertubing.net
Abseiling
Abseil the gorgeous Kaaimans Gorge alongside breath-taking waterfalls. There are two abseils, both 45 metres high, but of differing intensities, allowing visitors to start off slowly and then get more adventurous as their confidence improves.
Contact: Eden Adventures +27 44 877-0179 or +27 83 628-8547
Photo Credit: www.andesbasecamp.com