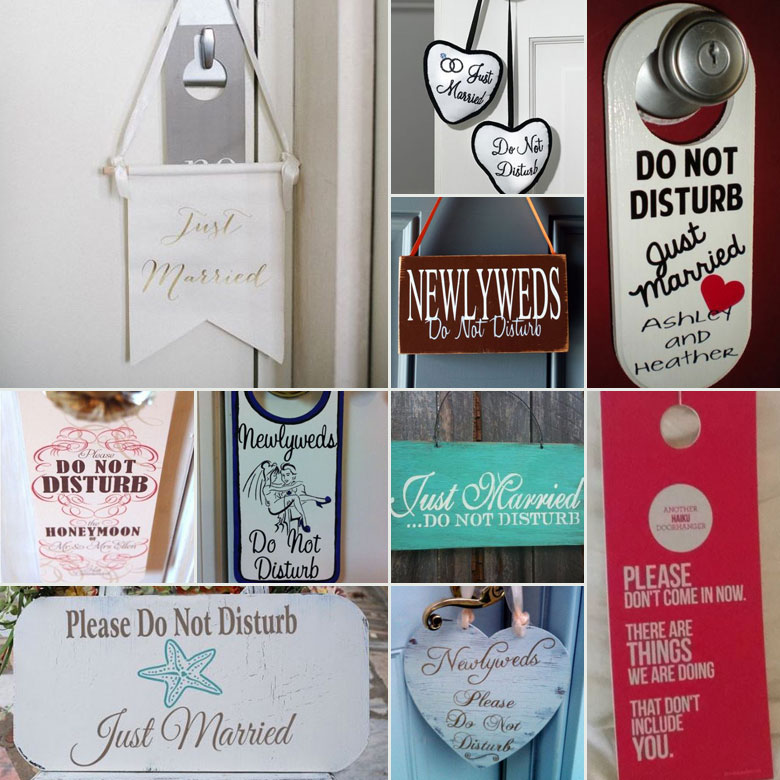 If ever there were a time you don't want to be disturbed, it would be your honeymoon. This is your time, and no room service or nosy neighbour should be interfering with your hubby-wife time.
While you don't want to be rude, it's important to ensure that they get the message loud and clear. Door hangers are therefore an absolute must – small but effective! Opt for a hanger with cute and friendly wording like "Shh! Please don't disturb the newlyweds!
If you're a bridesmaid to the bride, a door hanger can make for an excellent mini gift, since it's probably not something that she's thought about. Ensure it's small enough to fit in her luggage, and why not include a little chocolate or mini bottle of champagne just for fun?
If you're the DIY type, why not make your own door hanger? It's as simple as painting a thin piece of wood in a single colour, writing your carefully chosen words on it with a permanent marker and making two holes in the top corners to thread the string through.
Door hangers can also come in handy on the wedding day, when you're getting ready. After all – the last thing you want is for the groom or one of his sidekicks to walk in on you while you're prepping!
Original images and their credits available on Pinterest