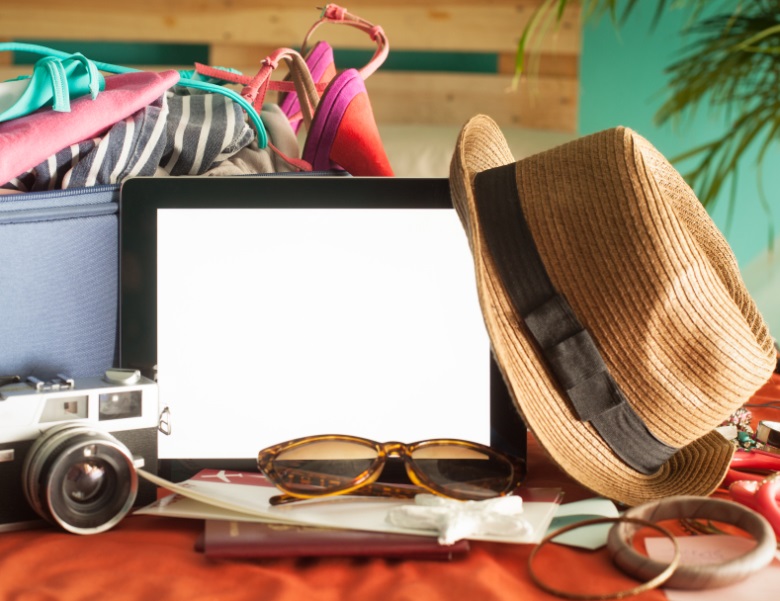 Packing incorrectly or forgetting half your clothes could turn an otherwise perfect honeymoon into something a little less than ideal. The key to successful packing is organisation. So, make a list of essentials and a list of things that you would like to take, but can leave behind if your bags are too heavy or full. Remember that you are likely to buy clothes and mementos at your honeymoon destination, and do not want to struggle with overweight luggage. It is advisable to divide your list and your luggage into 'his', 'hers' and 'ours' items for maximum organisation and order. The following suggestions include most of what any traveller requires:
Camera with film or memory card, batteries and recharger (do not forget the camera case)
Mobile phone and charger
Photocopies of your Marriage Certificate, VISA, ID book, travel tickets and other vital documentation
Travel guide books, foreign-language dictionary and maps
Clothing for all weather conditions, regardless of weather predictions
Antibiotic cream
Medication for diarrhoea, constipation and cramps
Birth control
Insect repellent
A good quality sun screen
Motion sickness tablets (for boat cruises, flights and long drives)
Pain killers
Plasters and bandages
Any medication that you frequently take, as well as a copy of your script for this medication, so that you are able to source it at the destination without having to see a doctor there
A copy of all important phone numbers, addresses and emergency numbers
International driver's licence
Anti-bacterial wipes
Binoculars
Currency
Playing cards
A good book
Sports gear (depending on the destination, you may need hiking shoes, a snorkel, etc…)
Sunglasses
Comfortable shoes (closed, open and formal)
An umbrella
Pyjamas
A waterproof jacket or windbreaker
Toiletries (face cloth, toothbrush, shampoo, etc…)
Deodorant
Lip balm (keep this on the plane with you as the air inside the cabin is very dry)
Shaving kit
Hair products and styling aids (including the straightening iron)
Jewellery (keep this to a minimum)
Make-up (only take the essentials, but be prepared for all occasions)
Make-up remover
Moisturiser and body cream
Pack a surprise in your bag for your new spouse. This could be sexy lingerie, a board game designed for couples or an extra special, unexpected gift
Include a list of what you have packed in your luggage and keep this on your person. If your luggage goes missing, you will have a record of everything you lost. You can then claim from insurance and replace the lost goods.
Good quality, compact and comfortable luggage is very important. Having your handle break off or one of your zips bursting open just before your honeymoon is no joke. It is also important that your luggage have wheels to make it easier to lug around the airports with you. Try to differentiate your luggage from other passengers' by tying something on it, or sticking reflective tape onto it. This will make it far easier to identify on the conveyer belt.
Consider couriering heavy shoes and bulky items to your honeymoon hotel so that you do not need to cart these around in your luggage.
Once you have packed your honeymoon bags, you will no doubt begin to feel the excitement of enjoying this break. After months of planning your wedding day, your honeymoon is well deserved.
Photo Credit: www.huffingtonpost.com