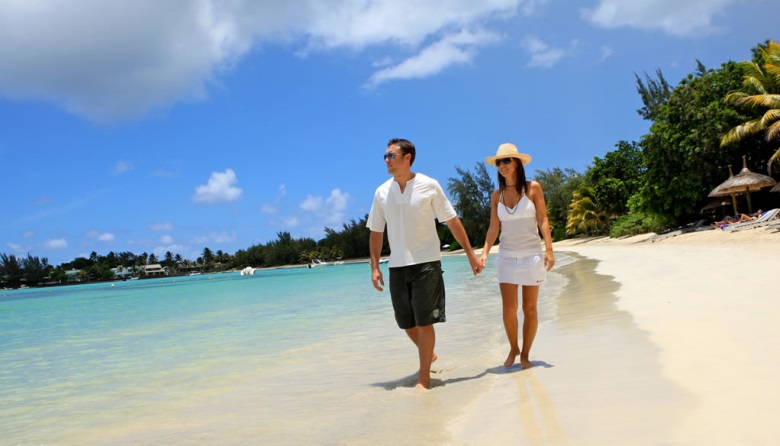 Imagine getting married and spending your honeymoon on one of the most beautiful and romantic island getaways in the world – Mauritius. These African honeymoon oasis are ideal for loving couples wanting to celebrate their union on this exotic island.
We are honoured to make your moment incredibly unforgettable whether it be the wedding or honeymoon". Mauritius is an affordable option for a luxurious island honeymoon and/or Wedding and is only a short hop away.
We take a personal interest in your wedding and honeymoon, and we approach each one as though it was our very first – we get just as much pleasure and excitement in arranging them today, as we have ever done. No matter what your budget or requirements, we will go out of our way to satisfy your requirements.
We believe that we are one of the experts in Mauritius and base this fact on having personally stayed or visited the more than 100 accommodation establishments on the island, ranging from self catering right through to the island's top 5 star hotels and retreats. We visit the island at least twice a year and have been selling Mauritius exclusively for 5 years. It is very daunting to select a hotel from the variety on offer and on an island that is only 2 hours by road from North to South.
One of the reasons that I chose to specialize in Mauritius was due to a Honeymoon package that my husband purchased, it was to be our first international trip and a surprise. When we got to the airport to leave Cape Town and he told me we were going to Mauritius, I thought that i had died and gone to heaven. He showed me a brochure on the hotel and I could not believe how lucky I was, and I went through the flight, arrival, customs and mini bus trip to the hotel in a warm fuzzy dream state. We arrived at the hotel in the dark, were handed a cocktail and then shown to our room. At first I thought there had been a mistake, as this was not the same room as in the brochure. Oh well, it would all look better in the light of day, and I could not wait to wake up and look at the warm beautiful blue ocean from our balcony in the morning.
I woke up and rushed to the balcony, but all I saw were trees in front of me and a park to the right. We decided to go down for breakfast and check the rest of the hotel before we complained. I got the fright of my life when I walked in to the breakfast room, I thought that I had checked into an old age home as we were the youngest people in the room by about 10 years.
To cut a long story short, my businessman husband had asked his TRAVEL AGENT to recommend a Honeymoon package and this is what she had come up with. When we got back to South Africa, we contacted her and asked her if she had ever been to Mauritius and her reply of no answered all our questions. What springs to mind is Jack of all trades, master of none, and that is why I only recommend hotels that I have seen, or stayed in and have graded according to my standards.
So, back to the planning of a Wedding and/or Honeymoon in Mauritius. You might think that it is rude to be asked what your budget is, but packages can start from R5 000,00 and have no end value. It is a waste of time and resources to send you a Honeymoon package at a five star resort for R50 000.00 per person, when the budget we should be working in is R30 000.00 for both.
Most of the Hotel on the island give at least 30 to 50% discount for the bride and this makes a significant change in the price of the package. In addition, they all offer various gifts. Some offer a romantic seafood dinner whilst some offer a couple massage or free catamaran trip for the day. Just about all of them decorate your bed and bath with flower petals and a t-shirt or sarong for you to remember the hotel by.
If you decide that you are not prepared to spend R50 000.00 on a one day/night Wedding which you won't remember the next day and would rather spend the money on yourselves and only have you and hubby to please (ever heard of wedding day complaints), or been and done that white 1st time wedding, then why not look at tying the knot in Mauritius. One of the major plus points is cost, as the hotels do not charge for venue hire, cutlery or crockery hire or any of the other nonsense that breaks the budget to get married here.
To get married in Mauritius, there are certain formalities which have to be fulfilled before a couple exchanges vows.
The civil wedding can be celebrated either at the Civil Status Office of the locality where the couple is staying, at the hotel itself or any other place chosen by the clients.
One or two days before the wedding, the bride and groom will have to produce the necessary original documents to the Civil Status Office situated in Port-Louis before going to the Supreme Court to swear an affidavit. Once this has been done, they will head to the Civil Status Office of the relevant locality for the publication of the bans. The civil wedding may take place 24 hours afterwards (date to be confirmed).
It is to be noted that the couple will be accompanied by a wedding co-ordinator to fulfill all the above formalities. But it must be remembered that it takes a little more organization and paperwork to be able to finalize all the necessary formalities. It is, thus, of the utmost importance for us to receive the documents needed at least 40 days before the clients' arrival in Mauritius either by fax, registered mail or by e-mail to be able to proceed with the required procedures.
Attorney's fees to draw up affidavits, and court's fees for the swearing of affidavits/
Cost of the publication of the bans
Driver-guide to accompany the couple from the hotel to Port-Louis, Civil Status Office and back
Assistance of a Mauritours representative while fulfilling all formalities
Civil Status Officer's fees to officiate the wedding
Handling fees to cover cost of faxes, telephone calls and other administration costs
The cost of the above formalities is around R5 000.00, depending on the rate of exchange.
If you decide that this sounds like far too much trouble and a little daunting, there is another way of handling a Wedding in Mauritius. The couple are encouraged to get do all the paperwork in South Africa, book the Honeymoon package and arrange to renew their vows in Mauritius. The couple then pay a small fee of around R 1 600.00 to have the paperwork done and for a civil officer to attend the renewal of vows anywhere the couple desires. This is one of the most cost effective hassle free options to choose from.
So give us a call or drop us a mail and we will contact you to find out how we can make your dream wedding and Honeymoon come true.
Photo Credit: www.mervillebeach.com