Wedding Scrolls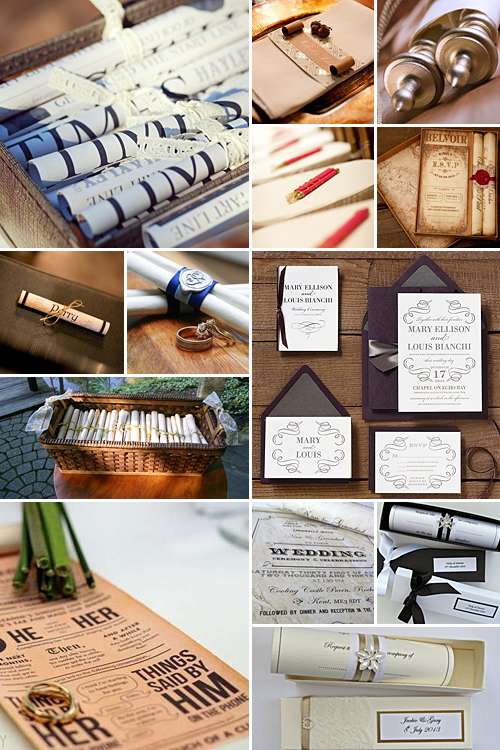 Scrolls are a great addition to your medieval wedding. However, they are also effective simply as a feature of your special day, creating a theme of their own. Weddings ordinarily require a fair number of printed items; ranging from Save-a-Dates and wedding invitations, through to menus, programmes, table seating plans and 'thank you' notes.
If you want to go for an old-fashioned charm for your wedding day, singe the edges of the scroll and stain the dry paper with cold, used teabags. For a more modern look, stick to coloured paper or a crisp, clean white paper.
To keep your scrolls in their rolled forms, you can use a wax seal (available from most craft stores), tie them with ribbons in your wedding colour(s), or use coloured rubber bands for a more retro look.
Use scrolls in the following ways at your scroll-themed wedding:
Have scroll invitations hand-delivered to your invitees for an old world charm.
Place rustic buckets containing your scrolled programmes at the entrance of the wedding ceremony venue.
Ask that all speakers (the best man, father of the bride, and so on), make their notes on scrolls instead of reading them off other pieces of paper.
Fashion your wedding cake as a giant scroll, or as many smaller scrolls with personal messages iced onto them.
Original images and their credits available on Pinterest