Stretch Tent Hire: The Popular Venue Option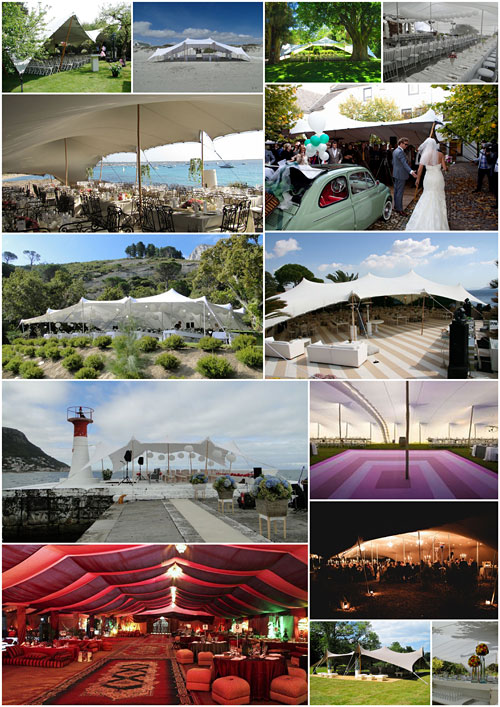 South Africa is the most beautiful country in the world. Whether it is the scenic Cape Winelands or the raw beauty of the Magaliesburg or the vast openness of the Karoo, South Africa has it all. It is no wonder with all this outdoor beauty and our unbelievable weather that so many couples are planning an outdoor wedding.
Of course, just because our weather and scenery is amazing doesn't mean that it won't rain on your wedding day or that your guests won't get sunburnt! You are going to need a quick, simple, and above all, elegant covering: A Stretch Tent.
Stretch tents' elegance, simplicity and versatility have firmly established them as the must-have shade and shelter solution for all South African weddings.
The beauty of these tents is that they are a blank canvas for you to dress up and theme as you please. By making the most of simple interior design and lighting techniques, you can create the perfect setting for any event: A simple white stretch tent can be turned into a beautiful setting for a wedding reception simply by decorating it with white fairy-lights, beautiful lilies and sparkling crystal ware. A beige stretch tent in a game farm with vintage wooden seats and vases would be unforgettable. A red stretch tent will be stunning to decorate with beautiful rugs and large cushions beneath potted palm trees and seductive lighting to create an Arabian nights style theme. The ideas are endless! And with a simple flick of the switch your elegant and sophisticated wedding tent can be transformed into a pumping party to celebrate!
Unlike traditional indoor wedding venues that can only accommodate a certain number of people, stretch tents can be used to cover an intimate wedding of thirty guests or a whole family and friends gathering of thousands! These tents are often used at festivals so size isn't an issue! And, unlike the traditional marquee tent, stretch tents can be pitched over any surface, no matter the shape or size!
Many couples buy a small stretch tent for their wedding and then hire additional tents that can be joined with Tentickle Stretch Tent's unique guttering system to create a larger waterproof wedding tent! Your very own stretch tent will become indispensable for garden parties, camping trips or shade in the hot South African sun! Of course, any party's budget needs to be taken into consideration and one can just as easily consider tent hire as opposed to buying one. While Tentickle Stretch Tents is the only international manufacturer with an organic 3 ply fabric that is fire retardant, water proof and can withstand a storm, there are many companies who specialize in tent manufacture, hire and sales and one can often select from a range of tent styles, sizes and colours.
When hiring or buying a tent, be sure to check that the tent fabric is treated to be fire retardant. The last thing you want is for your wedding to go up in flames! Also check that your tent is waterproof and that it can withstand strong winds. Unfortunately one simply can't predict the weather too far in advance. Some tents allow you to manipulate whether their sides are up or down and that often proves to be a good option to have.
So, whatever the weather or whatever the theme, tent hire could just be the answer to your dream wedding!
Contact Tentickle Bedouin Tents today!