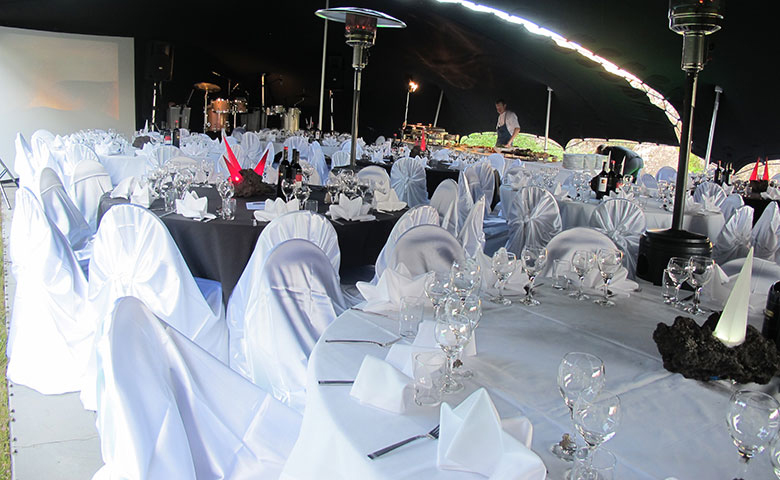 South Africans are some of the luckiest people in the world! Not only do we have a beautiful country, but we also have amazing weather almost year round! Don't listen to naysayers who believe that a wedding should only be held in spring or summer. Autumn and winter weddings have their own unique unforgettable charm and beauty thanks to stretch tents from Tentickle Stretch Tents.
Winter Wedding Reception Ideas:
Before every wedding reception, your guests are always abuzz with excitement and anticipation: the excitement builds and your guests mingle and share their favorite stories about the couple. Creating a unique tented area where your guests can circulate while you are signing the register is a fantastic idea. Not only will it impress everyone, but it will also help keep things on time. You can even create an open air tented cigar and whiskey lounge for the guys! Not only will it keep them out of trouble, but it adds a wonderful and picturesque photo opportunity!
Forget all about cold canapes before the reception and create a unique warm dining experience with ideas such as Hors d'oeuvre of butternut soup shots served with mini toasted ciabatta and mozzarella, or warm pig-in-a-blanket, or mini spiced chicken burgers?  What about ginger and chocolate covered chestnuts as nibbles? While warm fondues are always fun, especially chocolate fountain wedding cakes, they should be treated with extreme care!
Replace the drab and overdone summer cocktails with warm cider or mulled wine, or a whole host of unique winter drinks such as eggnog punch, tequila and hot chocolate, or a pomegranate and rosemary cocktail! There is an endless variety of delicious cocktails that is perfect for your winter reception!
Think warm and spicy for your meals. Hot smoked salmon with walnuts, or a variety of warm roasts such as red wine braised ribs and orange roast chicken, or ricotta gnocchi with toasted hazelnuts, or black bean and quinoa chili? Food ideas are endless and delicious!
Winter Wedding Designs:
Bedouin tents, or stretch tents as they are sometimes called, are the perfect wedding tent or ceremony tent solution thanks to their unique, stunning looks and versatility. You don't need to worry about finding a venue that suits your stretch tent, as our tents can be set up in virtually any area.
Take a look at our Marquee and Tents listing on Celebration for some ideas on how our Bedioun tents will ensure that your wedding is perfect and memorable!
What if disaster strikes and it is cold or it rains?
Relax! Tentikcle's tents are specially developed and go through rigorous testing procedures to ensure that even if it starts to rain, you and your guests will stay dry and warm! Warm? Of course! What would a winter wedding be without chandeliers and gas fireplaces? No problem thanks to our unique fire retardant fabric.
Our pitchers and experts are highly trained so they can design and position your wedding tent in the perfect position and shape to ensure that your wedding is perfect and exactly how you want it to be!
Find out more about Bedouin Tent Hire in Cape Town and across the rest of the country.