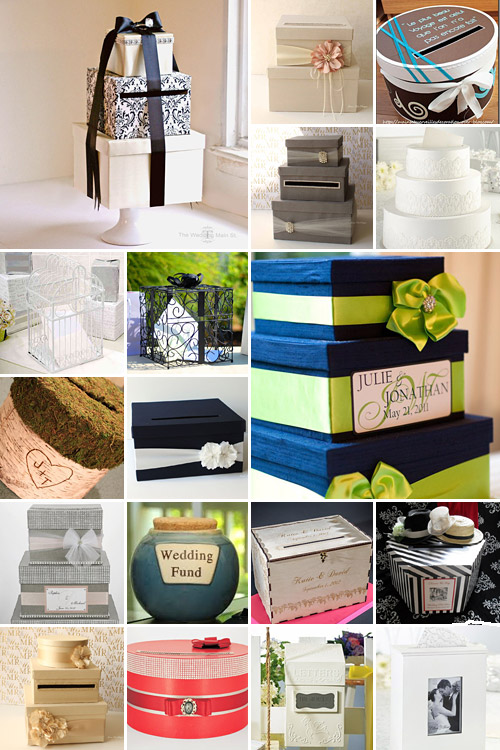 These days many couples prefer that guests give monetary gifts as opposed to purchased presents for the home. While in many respects this seems like the more practical route, guests are often left at a loss for what to do with the actual envelope on the day of the wedding – after all, a gift table just won't do! This is where money boxes come in handy – a designated box or container where monetary contributions can be left without a worry in the world.
Think practically – that's to say, steer clear of transparent boxes and vases that might lead surrounding folk and service providers into temptation. The aim is to use a special container which either has memories attached to it or that will become something of nostalgic worth. Here are a couple of ideas to spark creativity:
If you're on a tight budget, make a slit in a cardboard box and decorate it with all things pretty and sparkling. You can even go as far as to stack boxes of varying sizes in the shape of a wedding cake!
Invest in an oversized glass, pottery or ceramic money container that can be displayed in your house one day – e.g. piggy bank, wedding fund jar, cookie jar and so forth.
For a vintage themed wedding, recycle an old hat box or put a pretty bird cage to good use (just ask a friend to keep an eye).
Reuse that old post box that's sitting in the garage or grandma's old cookie tin, jewellery box or trousseau chest.
An alternative to money boxes is giving your guests the details of your wedding bank account where they can deposit monetary gifts before or after the wedding.
Original images and their credits available on Pinterest