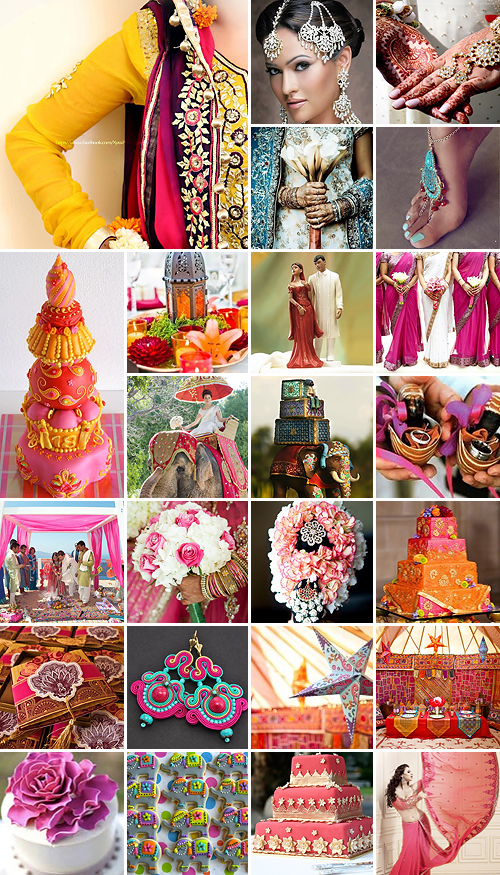 No matter who you are, what language you speak or where you're from, we've all gotten been drawn in by a Bollywood classic on a lazy Sunday afternoon at least once in our lives. The mesmerising colours, the fluent motions, the aromatic fragrances that you can almost smell through the TV set – all too perfect to describe.
This quintessential Bollywood theme is all about creating an unforgettable and festive experience. The key words you're looking for are exuberance, opulence, traditional and colourful, with no room for holding back. From the tables and the décor, to the attire, entertainment and food – everything needs to be bright and spectacular.
Have your hands painted with a unique henna design and wear plenty of gold bracelets to further enhance your opulent ensemble.
In terms of your wedding gown, move away from white and be daring with a bright dress, golden hair accessories and a delicately woven sari to complete the look.
The colour scheme should include warm tones like bright reds, cerise, orange, yellow and plenty of bronze and gold. Add deep jewel tones for a more elegant evening affair.
Play around with Eastern patterns – on the linens, stationery, walls and attire. Also consider appointing a lighting specialist to bathe the venue in warm patterned lighting.
Serve authentic aromatic Eastern cuisine and plenty of it! Samosas, spring rolls, biryani, a good curry and mini rotis, to name but a few.
Belly dancers and fire dancers provide the ideal Bollywood style entertainment between courses. If your bridesmaids aren't afraid to flaunt it, dress them in belly dancer outfits.
Opt for low-rising tables and have your guests seated on bright and plush cushions rather than chairs.
Bright wall draping is an absolute must and consider having the ceiling lowered with fabric and fairy lights.
Get your cake designer on board with an outrageously decadent and extravagant wedding cake, inspired by Eastern architecture.
Make your grand entrance on a rickshaw or, if you're a bit more daring, on the back of an elephant! Alternatively head on over to the petting zoo for a photo shoot with one of these big-hearted creatures.
For a real festive and photographic moment, provide powdered paint which guests can toss into the air instead of confetti. This can stain clothes, so be sure to warn guests in the invitation.
Original images and their credits available on Pinterest