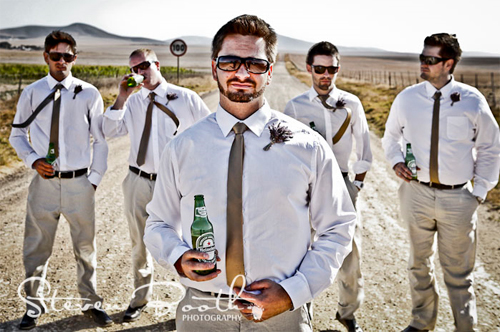 Boys will be boys and what a fabulous time for them to let loose and have some fun, but on YOUR wedding day. More often than not, the bride and groom's nerves are going whacky before the wedding, but thanks to the faithful groomsmen, the groom can be distracted by the groomsmen just being their fun selves!
Here are a few ideas for the boys:
Do lots of jumping or relatively easy gymnastic-like movements such as cartwheels and handstands. (Avoid doing something dangerous please to avoid a hospital trip for a broken bone or two.)
Bring a golf club, a ball, a racquet, a pole, sunglasses and you're on your way to getting creative and capturing some great shots! And, don't forget the good laughs and memories!
Find benches, street poles, walls, cars, fire hydrants, swings, merry go round, bushes and anything else that looks like fun for a photo! Jump off/out/around them, sit on them, lean on them – have fun with it!
Use funny mannerisms e.g. pointing, serious looks, the eye brow look, etc….NO funny faces!
Above all, have fun, boys – that's what we love you for!
Here are some ideas of how you can use the tips above and what others groomsmen have gotten up to:
[flgallery id=26 /]
Image Credit: Steven Booth Photography