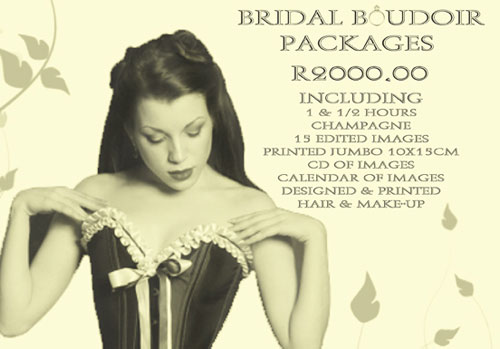 Contact Details:

Website: www.photoboudoir.co.za
Email: info@renate-photo.co.za
Cell: +27 (0)79 495 9088
Fax: +27 (0)21 554 5924
Our society is filled with images of beautiful women. They are on TV and film, on billboards, in magazines and on the Internet. Even walking through the mall, you'll notice sexy photos of models in store windows. They are just about everywhere. The images in the media can be intimidating for some women. The girls on the big screen are gorgeous bombshells that have been primped and preened to perfection by a team of stylists, make-up artists and personal trainers. Sometimes, these perfected images can lead to body image and self-esteem issues as regular girls and women strive to live up to this idea of beauty and perfection. The thing is that every woman has the potential to look just as beautiful and glamorous as the women in media. The opportunity exits through boudoir photography. Boudoir photos can be a fun-filled, pampering experience for any woman, but they also make a great gift for the man in your life.
Step back in time to Paris in the 30's or even a Moulin Rouge experience. Be your own sultry pin up, go vintage or just do it for a trip down memory lane in a few years. For a spouse, a husband to be that has everything or just for a zany idea on a girls night out.
What happens on the day:
First and foremost a glass of champagne will be on offer to take away those nervous jitters and to give you some some dutch courage.My team and I strive to make the experience as comfortable and fun to do. I guide you with poses and positions so no need to go for yoga classes beforehand;) Even though we shoot in studio it is in the comfort of my home making the experience relaxed and warm but maintaining the highest form of professionalism.
The whole experience lasts up to 2 hours depending on what package you choose. This includes shooting, hair and make-up if you have decided to go with this option (advisable) and outfit changes.
Nicole and Will are my make-up and hair gurus, they really transform you into a glamour model maintaining a version of you, just better.
Drink champagne, feel sexy and alluring no matter what walk of life. A place to be a diva, to show off your beauty and curves. A place where confidence is restored, the beauty of a woman is rediscovered and sensuality becomes part of something real even for a brief moment through the fine art of photography.