Children at your Wedding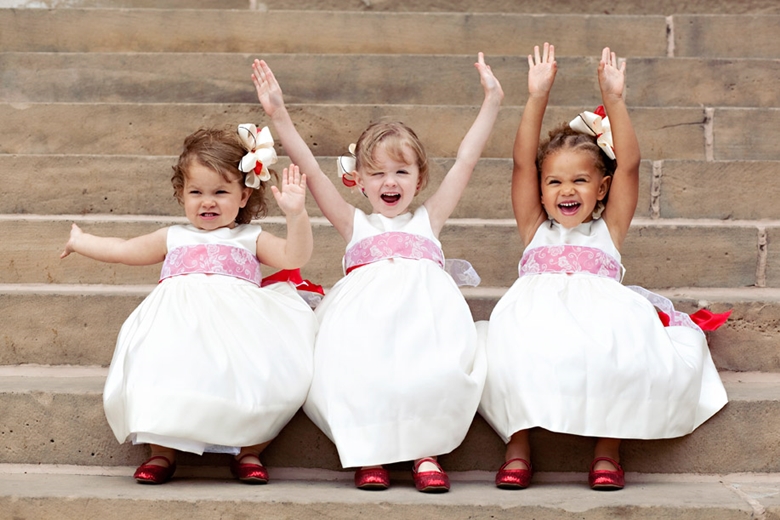 To do, or not to do? Whether or not to invite children to your wedding is probably one of the pivotal issues when it comes to planning a wedding – one which can be rather stressful if not managed with more than a little decorum. On the one hand, they photograph beautifully but on the other, all that fidgeting, fussing and carrying on in the church or at the reception is hardly conducive to a perfect day now is it? And being selective about just which children you invite opens up another can of worms entirely – how do you explain to Sue that she can't bring her two-year old when your niece of three is there?
At the end of the day, it is a good idea to let your wedding style dictate the children issue. Here are some aspects to consider:
Whether or not you are a parent
This tends to affect your decision rather dramatically. If you're already a parent, and want your own children at the wedding, then chances are that you're going to invite little people to your wedding, and most of the 'issue' is solved. Now all that is left to deal with is keeping them entertained so as not to have your wedding hijacked.
The time of day of your ceremony & reception
If you're having an evening wedding with a reception that only begins at around the time that little people should be in bed, then it is a lot easier to exclude children from your wedding plans. Evening weddings tend to be romantic and it is a chance for many of your friends with children to have a chance to relax and enjoy one another's company away from their children.
Your budget
For every child that you invite, you're supplying a meal, which may stretch your budget beyond its capacity. Some caterers allow children under three to eat for free, but you still have to supply sitting place in a reception space for which you may be paying by the square metre to rent, or having to select a larger area because you now have 10 children attending your wedding. It also may be hard to justify inviting a child over a really good friend you might not have seen since school.
Location, location, location
If your reception is out in the sticks or you have chosen a particularly unusual venue – up on Table Mountain for instance – then you are more than justified in leaving children off the invitation list. Some venues are not child friendly – they have swimming pools or rather large ponds right near the reception setting, which will leave your guests having to play policeman rather than able to enjoy themselves.
At the end of the day, you don't need an excuse to justify leaving children off your invitation list, but there are a couple of ways in which you can avoid the pitfalls:
If you're not inviting children, make it clear on the invitation
If friends have travelled far to attend your wedding, maybe provide them with help, such as a list of reputable babysitters with whom they can leave their children
Make calls to your friends with children to explain why you are not inviting children – in this way you can prevent feelings of resentment or misunderstanding
Photo Credit: www.brittathephotographer.com