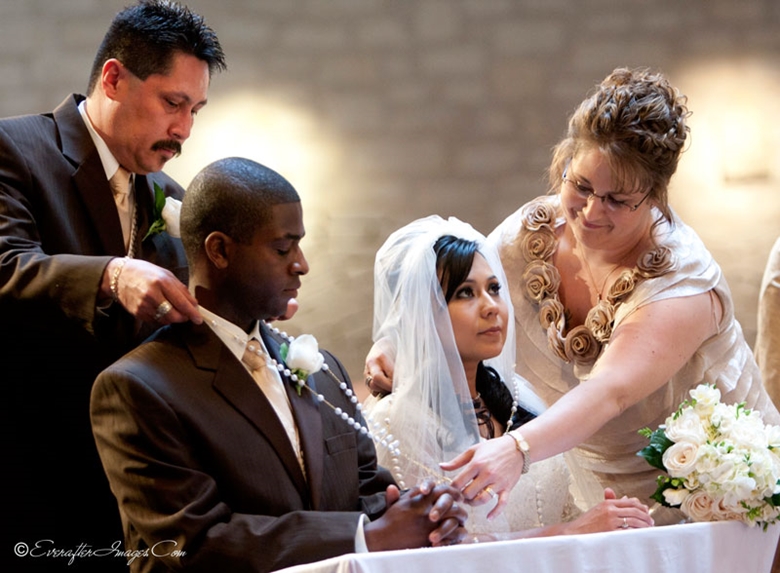 Love is not optional, but marriage is. Over the centuries, forbidden love has frequently gone unfulfilled as families conflicted over the fact that the couple in love hailed from different countries, cultures or religions. This discord has existed across all fronts and within every nation and has been the root cause of many tragic wars. Today, while this conflict may not be as violently imposed or as dramatic, there do still exist practices, traditions and preferences defined by a person's culture or religion. When we decide to marry someone of another race or culture, we will have to take these normal desires and tastes into account, as well as the potential for disapproval from friends and family.
Communication and mutual respect is key when deciding on the wedding you will have. Speak honestly and candidly with your fiancé about what you want and do not want at your wedding. Then, listen carefully when they do the same in return. Find common ground and be prepared to make compromises so that you are both able to have elements of your own culture or religion included. Some couples have chosen to take some very iconic representations of both of their origins and merge the two to create a unique and interesting wedding experience. For example, a Muslim woman may choose to wear traditional clothing while getting married in a Christian church. Or, each individual of the couple could wear his and her own traditional / cultural ensemble, showing that they still acknowledge their own customs as being important.
Take the feelings of the relatives and friends attending your wedding into account, even if social and religious conventions are not that important to you or your spouse. Respect that it may be difficult for them to accept the union of two different backgrounds and try to incorporate the 'best of both worlds', as far as possible.
It may be more appropriate (particularly if your culture is defined by your religion) to have a civil ceremony (i.e. no religious affiliation) and then invite guests to a celebratory reception that does not necessitate the usual exchanging of vows and other religious norms. A reception provides a great opportunity to express your personal identity without being offensive.
It may also be the case that a particular part of your or your future spouse's family belongs to a certain religion that may exclude them from some parts of your ceremony or reception. In this case, make allowance for these guests by ensuring that their exclusion does not make them feel isolated or spare. For example, if they are not able to enter the church, ask the ushers to direct them straight to the reception venue or to benches outside the church building. Showing this respect will put you at ease, and make your wedding day all the more special and memorable for your guests. This will likely unite the families in their mutual sense of being dignified by their needs and wants, rather than excluded because of them.
Marrying someone from a completely different background presents plenty of challenges (what religion will your children follow, for example?). Ensure that your wedding day does not turn into a battle of wills, but is an appropriate reflection of the unique love that exists between you and your future life partner.

Photo Credit: blog.everafterimages.com