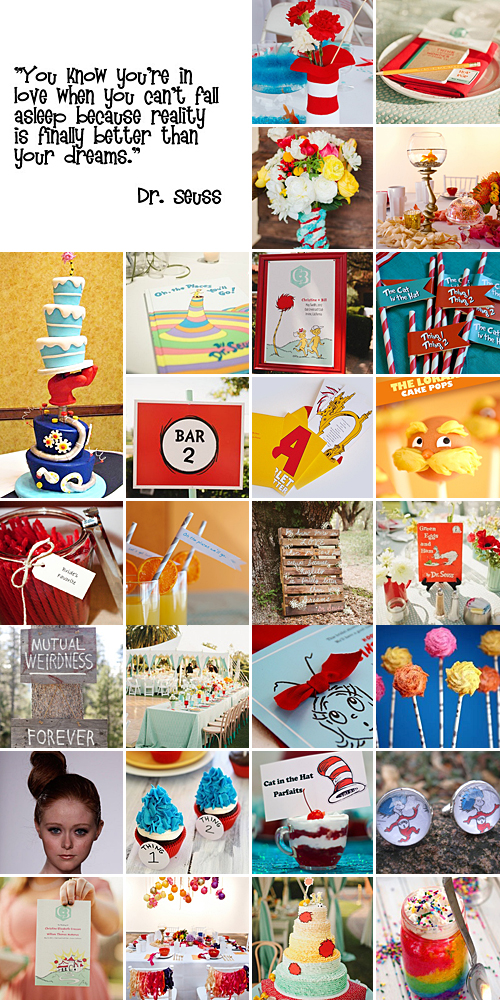 What's so great about the Dr. Suess? Well, the question should rather be, what's NOT great about Dr. Suess?! This inspiring writer can literally be described as a sculptor of dreams and magic, which is why we think it's time to invite him to the wedding.
A Dr. Suess inspired wedding theme is really all about playing with colours, playing with words and playing with the curious and impossible. From cat-in-the-hat vases and book cover table names to blue candyfloss treats and goldfish bowl centre pieces – because there are just so many great and wonderful ideas with this theme, we'll let the pictures do the talking.
Over and above the fun and quirkiness however, it's important to bear in mind that Dr. Suess' stories generally have a life lesson or truth hidden beneath. Here are a few thought-provoking quotes straight out of the great man's pen, so use them as vows, ice breakers on guest tables, thank you cards or anywhere and everywhere your heart desires.
We are all a little weird and life's a little weird, and when we find someone whose weirdness is compatible with ours, we join up with them and fall in mutual weirdness and call it love.
You know you're in love when you can't fall asleep because reality is finally better than your dreams.
You have brains in your head.
You have feet in your shoes.
You can steer yourself
in any direction you choose.
Don't cry because it's over – smile because it happened.
Today you are you, that is truer than true.
There is no one alive who is youer than you.
Being crazy isn't enough.
You're off to Great Places!
Today is your day!
Your mountain is waiting,
So… get on your way!
Congratulations!
Today is your day.
You're off to Great Places!
You're off and away!
From there to here, from here to there, funny things are everywhere!
You'll miss the best things if you keep your eyes shut.
Cause when a guy does something stupid once, well that's because he's a guy. But if he does the same stupid thing twice, that's usually to impress some girl.
My trouble was I had a mind but I couldn't make it up!
And what would you do if you met a jibboo? – Boy, what a great conversation starter this one will be!
Chat to your wedding planner and / or decor specialist on how you can incorporate this wedding theme perfectly into your wedding day!
For more Dr Seuss Wedding Theme ideas, the original photos above and their credits, make sure to check out our Dr Seuss Wedding Theme Pinterest Board!