Easter Weddings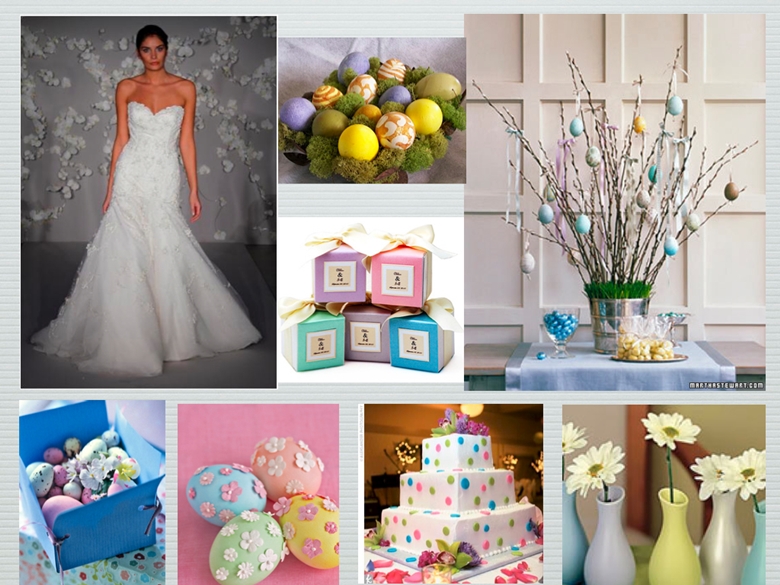 Easter is a lovely time of year to get married in South Africa. If you are one who celebrates Easter, getting married around this time can add a special touch to this memorable and religious time of year. So, if you're getting married around Easter and would like to go with an Easter theme, here are a few Easter wedding ideas and tips for you to consider when planning your upcoming wedding:
Your invitations usually reflect your wedding's theme, so speak to your stationary or invitation company about ideas for your wedding invitation or cards – here are some of our ideas:

Have a card made that displays or is the shape typical Easter characters such as a bunny rabbits, Easter eggs or fluffy yellow chicks.

Have an Easter egg chocolate delivered with your invitation

During Easter, in addition to the school holidays, there are a few public holidays that one needs to consider. A number of people go away during the Easter period, so make sure to send your invitations out well in advance (up to 3 months before the wedding) to ensure your guests are aware of the wedding date before they make potential plans to go away.
Brides should opt for soft colours of cream, ivory, silver, white and yellow with soft materials that are flowing and light e.g. chiffon
Grooms can opt for a completely white suit – quite daring, but perfect for an Easter wedding theme.
Sing Easter hymns at the ceremony. Suitable hymns may include "Amazing Grace" and "Alleluia Alleluia"
Make sure to include unique wedding favours relevant to the theme such as:

Little baskets or bags filled with a variety of little Easter eggs (will definitely be winner with the children!)

Stuffed Easter toys e.g. fluffy yellow chick / bunny rabbit with the name of the bride and groom

Bunny ears that everyone can wear on their heads (a sure winner for a memorable day and fantastic photos!)

Other fun ideas:

Have an Easter egg hunt (perfect for those at a venue that has a garden or a large area where eggs can be hidden)

Have an Easter bunny hand out eggs during the reception or while the guests wait for the bride to arrive for the ceremony.

Have face painting available for the kids (it's almost guaranteed that the adults will have a turn as well)

Consider having a wedding cake that is the shape of an Easter egg or bunny or alternatively, go for a chocolate cake that has Easter-like decorations – speak to the company you're using to make your wedding cakes. A number of these companies will have great ideas and may even be able to make miniature editable figurines around or on the cake.
Easter falls in autumn / fall, so consider making use of soft green, white, cream and yellow colours for your décor and flowers.
For your table:

Place small flower posies or bouquets in woven baskets with a silk bow for table centrepieces or decor.
Place transparent bowls with pebbles and a floating candles as a centre piece – lovely for an evening wedding

Name cards could be made from decorated eggs.
Given the number of people driving at Easter, if you are planning on serving alcohol and / or are having an evening wedding, consider including a name of a driving service that can drive guests home after the wedding
Have fun with planning the wedding, but as mentioned in the Christmas Weddings article, remember that less is more. Have fun with it, but don't overdo it.
Photo Credit: www.herweddingplanner.com