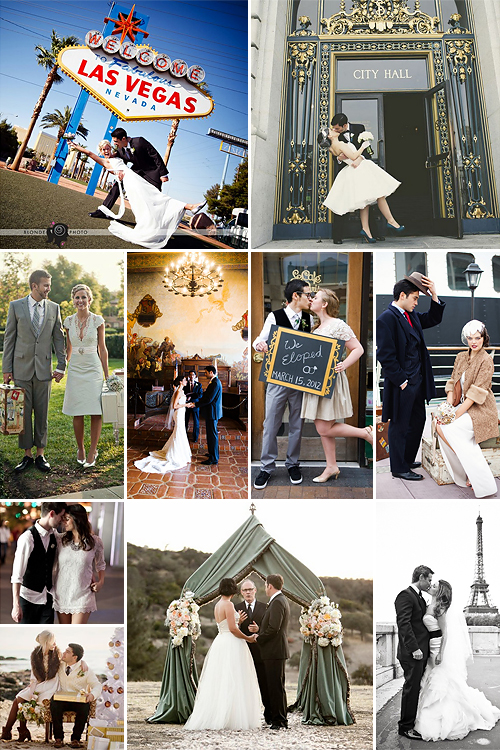 It's not common for modern couples to elope, since the origin of this practice lies in a time when certain marriages were forbidden and couples needed to formalise their union in secret. Still, the idea of eloping is uber romantic; like a private little secret that only the two of you share. It is also a lot cheaper than a full-scale wedding, which is likely the reason most eloping couples will opt for this choice.
Here are some tips to enjoying a really fabulous elopement:
Location
Because you won't have the friends and family around that usually create the hype, ensure that the spot at which you choose to get married is truly beautiful and / or meaningful to you as a couple. It could be where you first met, where you had your first date, in front of the Eiffel Tower or on the green banks of a bubbling brook. There are no rules.
Attire
Don't make the mistake of just wearing casual clothes because it's not a "real" wedding. While you don't have to don a full bridal outfit if you don't want to, buy something special in which you both look and feel fabulous. We love the new trend of short, flirty wedding gowns, and these are ideal for an elopement.
Photographs
We recommend that you hire a professional photographer to capture this very special event. You'll want to remember it forever and will want to show something to your friends and family, since they weren't included. Explain your reasons for eloping to the photographer and ensure that he or she captures your true personalities and unique romance.
Announcement
Be sensitive when announcing your marriage, since some friends and family may not understand their not being invited. Keep the announcement light and fun. Perhaps ask your photographer to take a picture of you, as a couple, holding a board announcing that you eloped and send this to your guests. Some family members may need to be told in person, though.
Celebrate
Just because you're alone doesn't mean you shouldn't celebrate this mammoth commitment. So, after the event, plan something really fun or special for the two of you. Cruise the canals, go for a champagne sail at sunset, or hop on an aeroplane to your honeymoon destination.
Original photos and their credits: Elope Wedding Ideas!