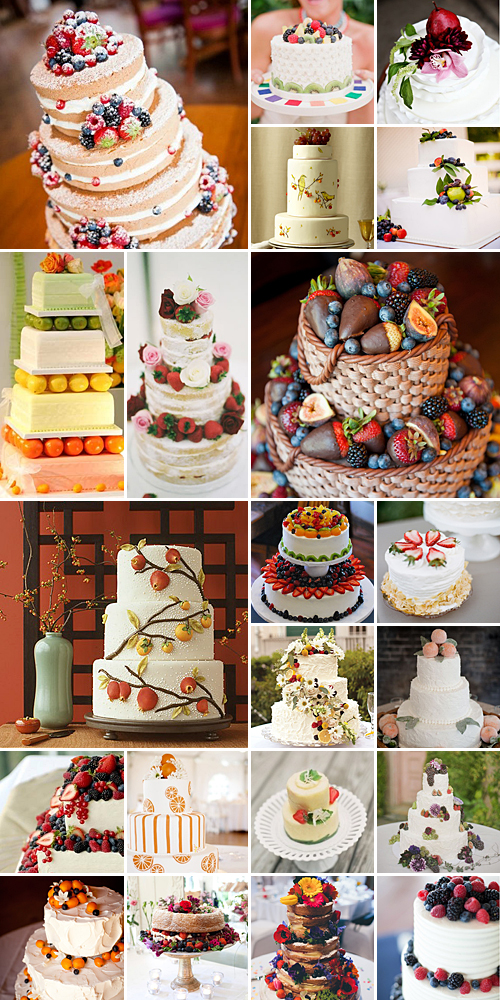 Until just the other day, the cherry was the baker's best fruity friend. However things in the kitchen have taken quite a dramatic turn and fruit discrimination has finally been brought to an end – if it comes from a fruit tree, it belongs on a cake! Plump, juicy, bite-sized, colourful, pitted or non-pitted – fruit in any form just has a way of putting a fresh spin on cake décor, turning any sugary creation into an organic looking masterpiece. And don't you just adore the many lush and juicy colours?
When choosing the fruit for the cake, there are a few questions you need to ask:
Will it be in season during my wedding month?
Will it stay fresh for the duration of the wedding?
Will it stain the cake or frosting?
Then there are the various combinations and additions with which you can experiment:
Fruit in varying shades of a single colour.
Fruit + flowers and leaves.
Fruit from the same family, e.g. berries or citrus.
Fruit dipped in white, milk and dark chocolate, or dusted with icing sugar.
A great alternative to fruity cake decoration is an actual fruit cake – yes, like the one Gran usually bakes around Christmas time. In reality, before the introduction of the many decadent cake options we know today, fruit cake was generally used for wedding celebrations. Because it tends to last so much longer than any other type of cake, it's the ideal solution if you want to stick to tradition and save the top layer for your first anniversary.
On the other hand, if your guests aren't blessed with a sweet tooth, a fresh fruit buffet, fruit tower or fruit salad bar is a lovely alternative to a rich and decadent wedding cake. If you're anything like us however, you'll definitely want to sink your teeth into any form of sugared, caramelised and crystallised fruit… and if there's anything left, pop it on the cake as decoration!
For more ideas on Fruit Wedding Cakes, the original photos above and their credits, make sure to check out our Fruit Wedding Cakes Pinterest Board!