Guest Gifts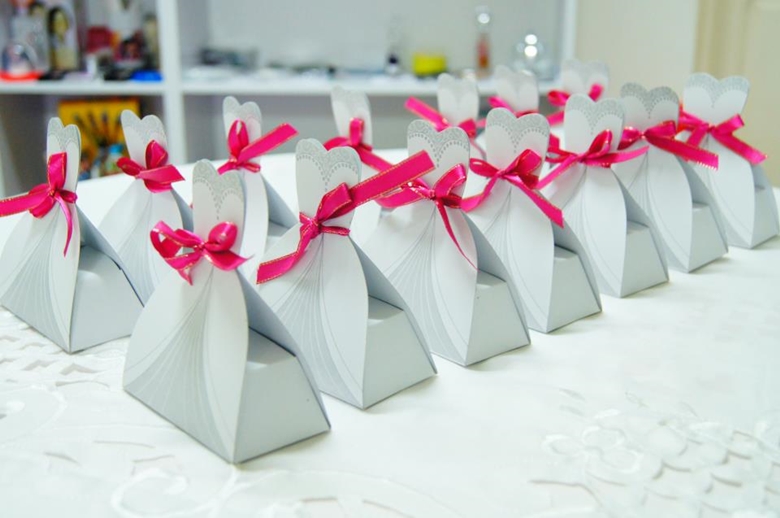 While nuts and chocolates remain a few of the favourite gifts for guests to take as a memento of your special day, why not expand the options with some affordable or innovative options? These will not only save the bridal couple time and money, but are also likely to remain in the minds of the guests for years to come as novel and interesting gifts that stood out from the other weddings. A few options are:
Write a personalised thank you letter to each of your guests or to each couple expressing why you wanted them there and how much you appreciate them as your friends / family / colleagues. Perhaps include a favourite memory or a photograph of you with them.
Put together a range of IOU's specific to each guest. Some examples of the favours or vouchers could be lunch (paid for by you), a trip to the beach, sundowners at their favourite spot, a shopping spree, your babysitting services while they enjoy a night on their own, and so on. Decorate these IOU's according to your wedding theme or put several of them in a pretty box or organza pouch. They can be redeemed at any time, allowing guests the promise of your undivided attention, despite your new responsibilities.
Get a good quality coffee, add vanilla pods or chocolate drops and make small sachets of your own 'blend' for each guest. Attach a personalised 'thank you' note to the sachet. Your guests will remember you and your wedding every time they have a cup of your special coffee.
There are beautiful soaps available for very good prices today. Get a bar of natural or glycerine soap and wrap these sweet-smelling treats in raffia ribbon for a unique gift that is both attractive and useable for both men and women.
Make a large batch of jam, marmalade, salad dressing or stewed fruit and give each guest a jar or bottle with a personalised label or a ribbon in the colour of your wedding theme.
Write down your favourite recipes and enclose one of them with a dinner invitation for each couple. Just ensure that you have planned it carefully in your diary to prevent overlapping. Alternatively, invite more than one couple to savour each dish.
Plates – a good ceramic artist can make and personalise your plates with a specific message or the name of each guest, which they can then take home with them after the meal (once they have been through the sink, of course).
There are so many alternatives available to bridal couples who have the time and resources to consider them. By exploring less conventional options, the couple is sure to create a most memorable event for themselves as well as their friends and families.

Photo Credit: ghanarising.blogspot.com