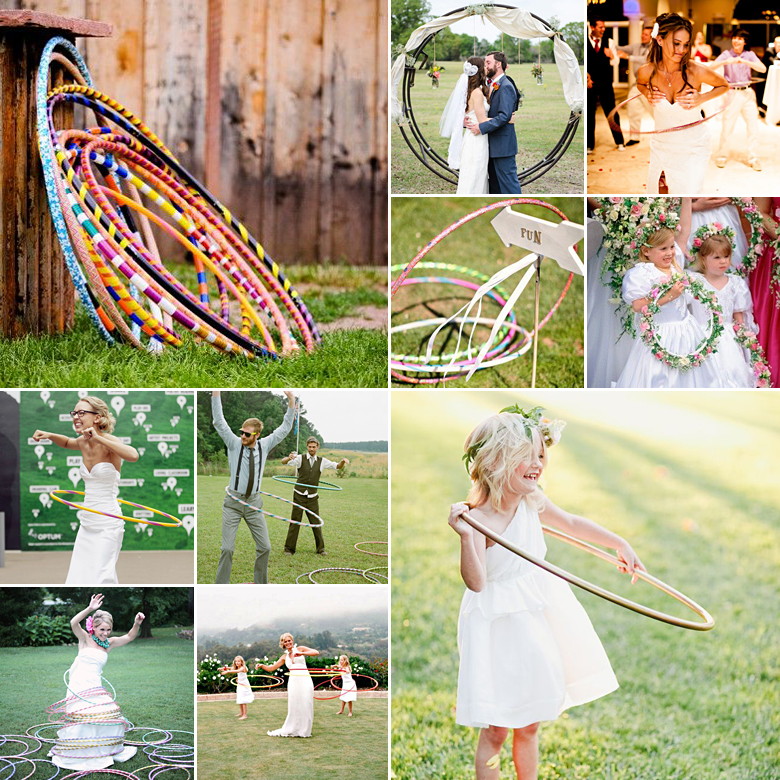 While not everyone might be as agile and au fait with whirling a hula hoop as they used to back in the day, hula hoops still hold plenty of charm and a host of childhood memories. With the circle already playing such a major and highly symbolic role on the wedding day, the hula hoop fits right in, bringing with it a sense of childhood fun and laughter.
Cover the hoop in a variety of fresh and colourful flowers, and use it to decorate the venue – perhaps by suspending it from the roof above each table or hanging it on the wall behind the main table.
Use the hula hoop as a prop during your wedding photo session, or in the photo booth for guests to get weird and wacky with.
Twirl fairy lights around the hula hoop for a striking lighting piece.
Set out a couple of hula hoops during the cocktail hour which guests can strut their childhood skills with. Remember to point this out to your photographer so he or she can capture the fun!
Buy hula hoops in bulk and use the as guest favours! Guests will love the thought put into it and, even if they don't use it, their children will love the gift.
Hula hoop tubes are in fact hollow so consider winding a long piece of LED lighting through the tube to create eye-catching glowing hulas.
Commission fire dancers to impress guests with their fiery hula skills.
Original images and their credits available on Pinterest