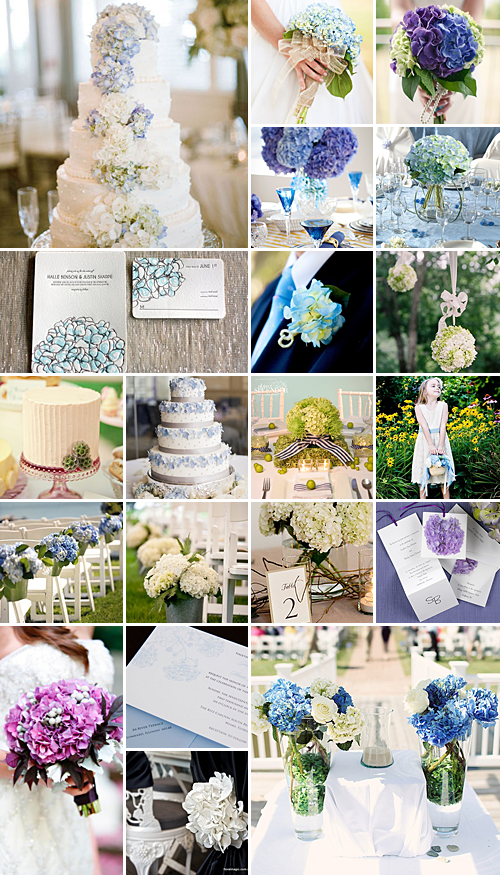 About a year ago, had your neighbour have suggested you use hydrangeas in your centre pieces, you probably would've thought "blegh". However over the past season, hydrangeas have become the new "it" flower, cropping up at all the trendiest and prettiest weddings and celebrations.
These plump and perky flowers generally bloom over summertime, in other words smack bam in the middle of the wedding season. With their homely charm and opulent character, hydrangeas certainly have quite a presence, easily filling a flower vase for cheap-cheap. Generally hydrangeas are available in light pink and purple, and are one of the few flowers that also come in blue and green. The shades are typically dependent on the type of soil in which they're planted.
If you look closely, you'll notice that each hydrangea is made up of tiny flowers which can also be put to excellent use in stationery and cake design. What's more, these lovely little blossoms can be pinned to your hair to create a festive and feminine hairstyle or used in the gents' boutonnières. Always remember that hydrangeas tend to wilt quickly in the heat, so don't let them stand around in the sun for too long.
Ask your cake designer to imitate the hydrangea design using icing and fondant, and make a bunch of pretty mini hydrangea cupcakes for the dessert table.
Carry a bunch of hydrangeas or a single flower as your bridal bouquet.
Tie your wedding bands to the stem of a hydrangea instead of the traditional ring cushion.
Chop up a couple of hydrangeas and use the petals and tiny flowers as confetti. Alternatively give each guest a hydrangea flower and allow them to pluck the petals themselves.
String a number of hydrangeas together and hang the floral lines in the trees and ceiling for spectacular yet simple hanging décor pieces.
Tie a single hydrangea to the end of each church pew to line the aisle with natural splendour.
Ask your aforementioned neighbour if you can have your pictures taken amidst her bed of blossoming hydrangeas.
For my Hydrangeas Wedding ideas, the original photos above and their credits, make sure to check our our Hydrangea Weddings Pinterest Board!