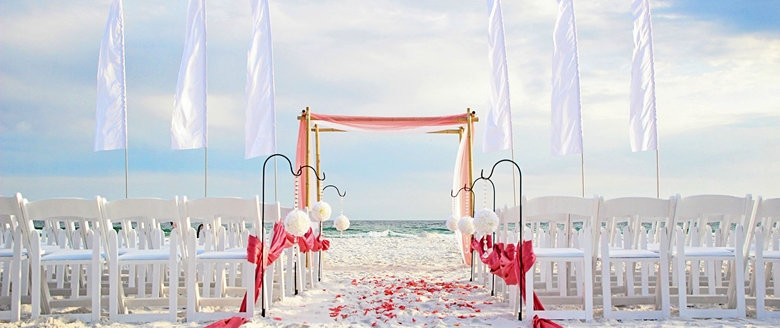 Your wedding day is meant to be memorable and special; a beautiful way to share your lifelong commitment with your closest friends and family members. Your venue can and should play a key role in achieving this. Island-based celebrations offer exotic, innovative and picturesque venues and present you, as the bridal couple, with a unique opportunity to express your personalities and the nature of your love in a very different way.
There are many advantages to an island wedding. Some of these are:
This is a new, trendy idea for modern couples as well as a tasteful option for more old-fashioned brides and grooms.
Such a wedding is a huge treat for the friends and family that can share it with you.
An island scene creates a stunning backdrop for your wedding photographs, which create lasting memories.
The journey to the island (whether by air or water) can be part of the celebration. Treat guests to champagne and snacks along the way, so that they can get into the vibe for your celebration.
The bride is unlikely to be able to be very hands-on in her wedding planning since she will not be on the island. This means that much of the pressures and decisions have to be taken off her shoulders and left to the professional staff on the island. As she is forced to forfeit many responsibilities, she is more able to enjoy the weeks leading up to the event.
An island-based wedding is usually offered as a package deal, which is all-inclusive and often works out cheaper than splitting each service and product up as an individual item.
Depending on the destination you choose (e.g. Mauritius, the Virgin Islands or Robben Island), guests attending your wedding are able to make their trip to your celebration into an extended holiday for themselves.
If you choose to stay on the island for your honeymoon, you will not need to pay extra transport costs or travel after the stress and fun of your big day.
Of course, there are also some potential drawbacks, which should be considered before settling on an island venue. These include the fact that the bride may not be able to be as actively involved in the planning of her wedding as she would like to be, that guests may not be able to afford the costs of getting to your island getaway and that the weather may affect your beach wedding (if this was the style you were hoping for, as most island weddings are).
In South Africa, our best known island is Robben Island, just off the coast of Cape Town. It is exceptionally accessible, taking approximately 30 minutes by ferry. This is the perfect opportunity for guests to relax, enjoy the ride and sip on some ice-cold champagne. Robben Island is rich in cultural and historical heritage, which will infuse your day with a warm ambience of sophistication. In addition, there are a number of open areas in which to erect a marquee, promising breath-taking views of Cape Town and Table Mountain in the distance. Cape Town is a fantastic destination, and is likely to be an attractive prospect to your guests, no matter from they are travelling from. Local attractions for them to enjoy during their trip to Cape Town include:
Table Mountain and the cableway
Camps Bay
Clifton beaches
The Victoria & Alfred Waterfront
Green Point and the stadium built for the 2010 World Cup™
The Cape Town City Bowl, home to a plethora of excellent restaurants, shops, boutiques and markets
Photo Credit: www.prwedding.com