Kgalagadi Weddings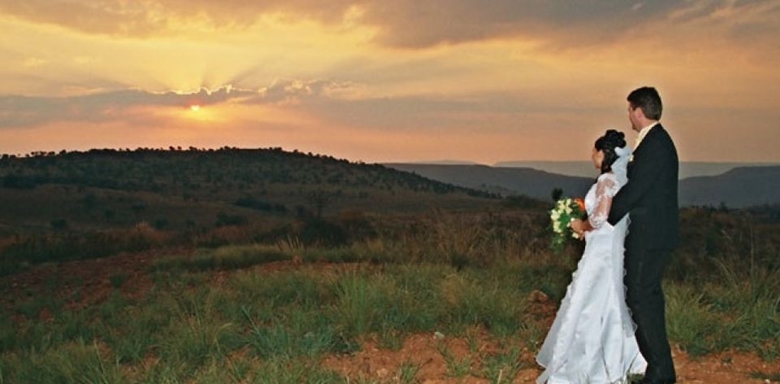 The word "Kgalagadi" means "place of thirst", and this aptly describes the stark, arid beauty of this Northern Cape area. Characterised by red and ochre sand dunes and dotted with hardy vegetation, Kgalagadi presents the splendour of South Africa from a completely different perspective. Brimming with wildlife and a unique combination of vegetation, Kgalagadi guarantees an ambience of mystical romance, setting the perfect scene for an authentic African wedding.
The Kgalagadi Transfrontier Park is one of the main attractions to the area. This park crosses the Botswana border to incorporate some of the fauna and flora of South Africa's neighbouring country, providing an even more elaborate, complex and fascinating experience. The Kgalagadi Transfrontier Park is home to many intriguing wildlife- and bird species. The wilder of the local residents include Black-maned Lions, leopards, Honey Badgers, cheetahs, Pygmy Falcons and Gemsbok. These guarantee fabulous photographs for your wedding day and honeymoon, making this the ideal wedding destination for couples that appreciate the natural wonders of this country.
There is ample accommodation in Kgalagadi as well as in the Transfrontier Park, including tented camps. These will ensure that honeymooning couples as well as wedding guests that turn their trip to your wedding into a vacation will have ample choice when selecting their Kgalagadi accommodation.
The !Xaus Lodge is situated within the Kgalagadi Transfrontier Park and is a fabulous venue for a bush wedding or honeymoon accommodation. The luxurious thatched lodge, the views over the watering hole from your private deck and sheer wealth of heritage that exudes from every aspect of the lodge are magical lures for guests from all over the world.
In addition to a wedding venue and honeymoon accommodation, Kgalagadi offers guests an array of exciting things to do and see. These include:
Game drives (early morning, midday and late afternoon are recommended to ensure that you see the widest range of animals in their natural habitat)
Relax at the watering holes and watch as the beasts congregate to refresh themselves
Sample the local cuisine
Embark on a 4 x 4 trail through the desert landscape
Spend a day on the nearby golf course
Picnic or barbecue amidst spectacular surrounds
Photo Credit: www.southafrica.net