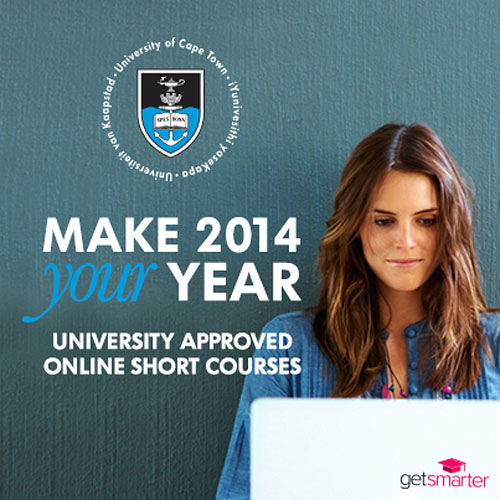 It may sound a bit like the title of a sci-fi movie but, believe it or not, it is 2014. A new year is an occasion to tackle your career with a refreshed attitude and hunger for opportunity. According to the Chinese calendar, 2014 is the Year of the Wooden Horse, which is predicted to be a high-spirited and adventurous year, offering people opportunities to make their lives better, especially those who hadn't had much luck in the previous year. Sounds good, right? This year is YOURS.
What would you like to achieve in 2014? Whether you want to land your dream job, start your own business or (re)discover your creativity, making your dream a reality will require more just than a list of New Year's resolutions.
Set yourself up for success in 2014 with a portfolio of over 45 online short courses presented entirely online throughout South Africa, by the University of Cape Town and other industry experts, in partnership with online education company, GetSmarter.
Short courses starting soon:
For more information on any of the above courses visit www.getsmarter.co.za. To learn more about how to advance your career in 2014, download your free copy of the 2014 Career Guide.