The Mature Bride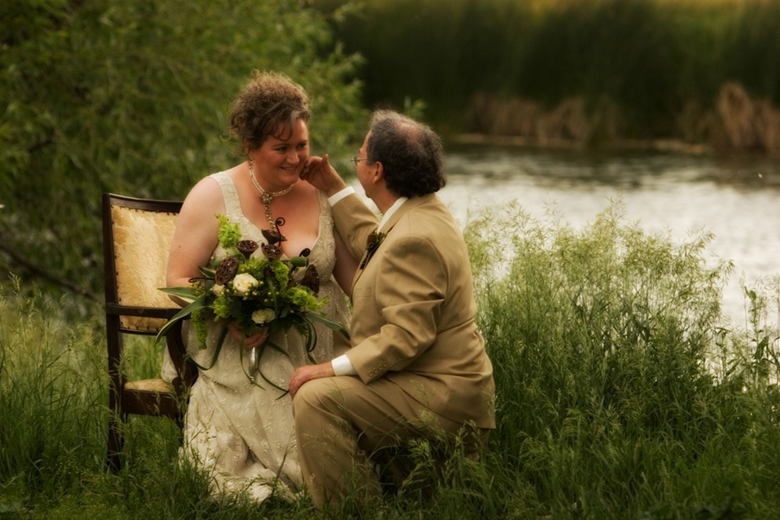 Almost every girl has grown up with at least some ideas of how they want their wedding day to be. In some cases, though, you may not find love until much later, or you may get remarried in your 40's or 50's. This is unlikely to have been what you imagined as a young girl. Although the age of the bride does not have to have much bearing on the major facets of the wedding day or the life you look forward to sharing with the special person in the future, there are several factors to consider.
Dress
Generally speaking, older brides usually opt for more elegant, chic gowns than big, flouncy white dresses. White has always been considered an indication of virginity and purity. This notion has become somewhat dulled over the years, though, and the more mature bride can make the decision whether to wear white, ivory, or a coloured dress. An important point to consider, though, is that your body has changed since your twenties, and the form-fitting dress of your dreams may not do your curves any justice. Be realistic about your body and the type of dress you can pull off. This does not only apply to older brides, but it certainly is a major consideration for the more mature women. A mature bride's make-up needs careful attention as you want to avoid applying too much foundation and so on to create the impression of youth.

Venue and Ambience
Many second-time-round brides have chosen not to get married in a church. It is common for older brides or those getting married for the second or third time to choose a less formal venue, one that reflects their life experience and friendships. Garden weddings or a marriage on a farm or ranch are novel and fun options. The time of day at which a wedding is held plays a large role in determining the look and feel at your wedding. A champagne breakfast is very different to an afternoon barbecue or cocktails at sunset, for example. The challenge is to balance casual and serious, as you do not want the validity of your love and commitment to be negotiated by unnecessarily casual proceedings.
Have Fun

Celebrating love is a fun and special opportunity, regardless of how old you are, how long you had to wait or how many frogs you had to kiss before you found your prince. By the time you reach your 40's, 50's or beyond, there are likely to be children involved in any union. Try and incorporate the extended family as well as the vast pool of friends you have accumulated over the years in a fun and welcoming way. This not only helps everyone to enjoy your special day, but also sets the tone for your new life. Your age will grant you a sense of independence and the ability to make decisions without pressure from your family. This means that you can invite exactly who you would like to be there, rather than being pressured to have distant relatives or annoying colleagues eating your free food.
Honeymoon
More mature brides are usually established in terms of their career and schedule. This will hopefully mean that you have more flexible time and financial resources, but could also mean that you do not have the freedom to take a month off for an exotic honeymoon. Regardless of what you are able to do, make sure that you do, in fact, have some sort of honeymoon. This time together is priceless.
Picture Courtesy of artistiphotography.com