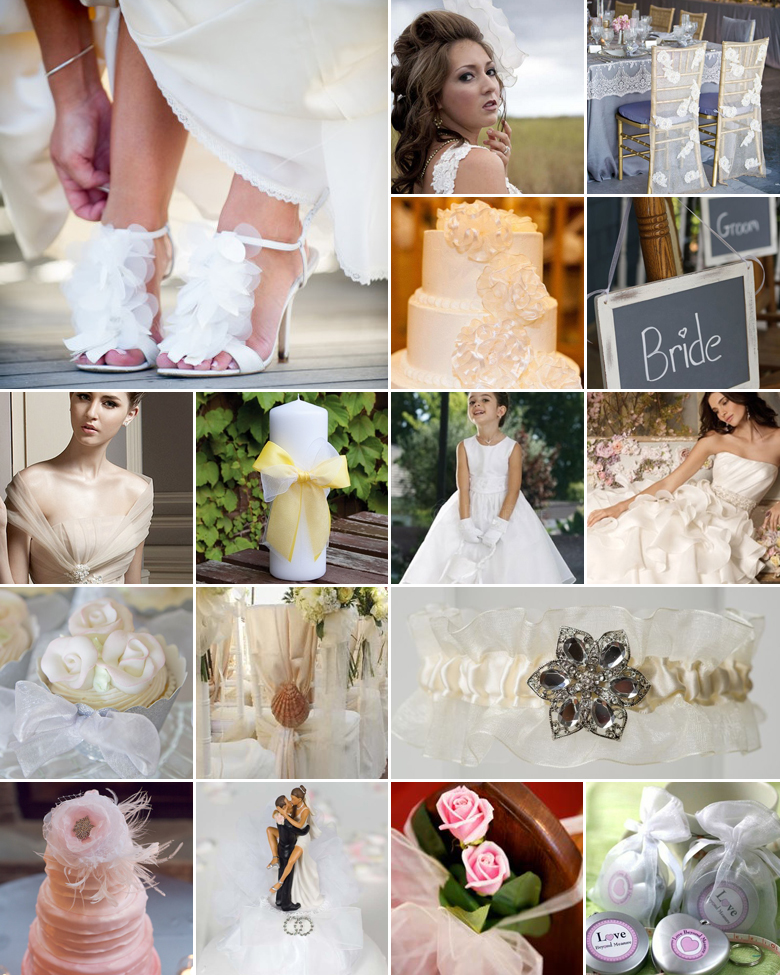 This shimmery translucent fabric has been around for decades and, as a result, has become somewhat overlooked and underrated. The fact remains that organza is a "staple fabric" and it's time to relook and reinvent this baby – there are so many possibilities and opportunities in terms of décor and attire, so let's take a closer look:
We absolutely adore shimmery organza covered accessories like clutches and shoes, as these add an elegant and simple touch of glam to even the most traditional look.
For a bolder, more contemporary bridal look, zhoosh up your ensemble with bold organza bow around the waist, an organza shoulder wrap or petite gloves.
Use organza flowers to perk up an all-natural floral bridal bouquet, as cake decoration, hair fascinator or to decorate the chair backs.
Even the simplest guest favour looks ten times fancier when packed in a little organza pouch.  These are available from most craft stores in a variety of shapes and sizes.
Adorn the guest tables with organza table runners and decorate the chairs by wrapping lengths of organza around the backs.
Wrap organza ribbons around the candles and napkins for quick table decorations that match your colour scheme.
Organza is easy to incorporate into your stationery elements – all you need a simple organza bow or ribbon down the side of the card and you're good to go! TIP: When sticking ribbon on paper, use sheer double sided tape instead of glue as this will keep the ribbon in shape.
Original images and their credits available on Pinterest