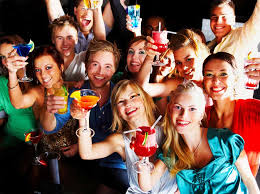 The wedding after-party has a reputation of being the retreat for overly inebriated guests that have not yet come to terms with the fact that they are past the stage of being fun. However, modern after-parties are actually an opportunity for guests to relax after an important celebration, while the bride and groom get to spend some time away from the bustle of friends and family following months of planning and preparation.
There are a few guidelines that can make this event fun, safe and memorable.
Send formal invitations – it is important that there are official invitations to this party as it is always awkward when the slurring second cousin of the bride's maid insists that he still has a lot of 'party' in him and should come to the after-bash. Invitations limit and control the number of people attending, which is especially important considering that these types of events are usually held in a private home. It is perfectly acceptable to invite people that could not be accommodated at the wedding reception to the after-party. It gives these ones the opportunity to be part of the celebrations.
Use modern technology – emailing the invitations or creating a group on Facebook is a cost-effective, convenient way of accessing a large number of people and providing clear information (as opposed to abbreviated texts or word-of-mouth). Facebook events also allow guests to RSVP on-line.
Transport – most of the guests will have been drinking alcohol at the wedding reception, and may not be fit to drive to another venue. It is important to make safe transport available. A minibus can be hired, sober drivers elected or taxis called, but drunk or tipsy guests can not be allowed to drive.
Catch a few Z's – if possible, it would be most convenient to have the after-party at a venue at which guests can spend the night to prevent them from having to drive home. This can be a holiday cottage, farm, or a kind home-owner with a big enough house.
Serve snacks – by the time the after-party has started, many of the people have danced their dinners away and are feeling a little peckish. Light, comfort food is best, and cocktail snacks are most convenient. High protein bites will give guests energy without making them feel full, bloated and weary. Stuffed eggs, cold meats, mini sausages with dip, grilled chicken pieces and fruit are refreshing, filling and tasty. Sweet snacks should also be light and small. The host can lay these out on tables for guests to help themselves, rather than keeping too busy by trying to serve people.
Music – there is no party without great music. Depending on the nature of the after-party, the host may decide to hire a DJ. This is preferable to hiring a band, as the after-party is usually smaller and less 'grand' than the reception. Alternatively, a playlist played from a laptop and hooked up to a mixer with some good speakers can work just as effectively. Discuss this with neighbours first!
BYOB – providing drinks to all of the after-party guests may become very costly. The host has a few options. They could request that everybody brings their own drinks for this part of the evening. Alternatively, a very limited bar could be made available (perhaps only offering one or two types of beer, red wine and white wine, for example).
With planning, forethought and a little creativity, the after-party can certainly be a blast for friends and family of the brand new husband and wife.

Photo Credit: www.bridewithstyle.net