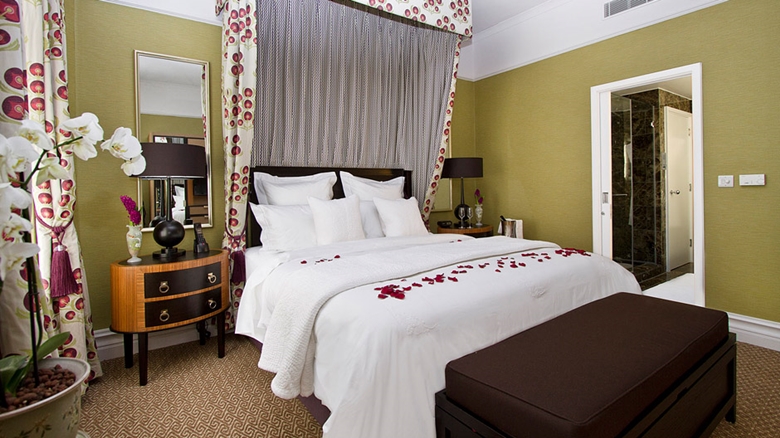 After months of preparation, your day has finally come. You have spent much of it laughing and smiling, bits of it crying and all of it living out your dream wedding. Amidst the excitement, chaos and stress, many couples do not think of the room to which they will retreat after the celebration. However, going to a plain, empty hotel room can feel like the ultimate anti-climax for newlyweds. So, do not forget to take some time to prepare this room (whether at home or in a hotel) for your arrival after the reception. Alternatively, leave this responsibility up to a trusted friend so that the appearance of the room and the added treats are a surprise for both you.
First, include snacks and refreshments. It may have been quite some time since either of you had a chance to eat, if you managed to fit any food in at all between greeting guests, posing for photographs and partying the night away. Make the food light and healthy, not something that will make you feel nauseous or bloated. Either pack a small meal for the both of you or pre-order room service. As soon as you arrive, drink a glass of water to rehydrate and refresh yourself. Then, you can move on to a comforting nightcap, a cup of herbal tea or a tasty glass of wine. Having a bottle of red wine or champagne waiting in the room is romantic and convenient, since hotels often charge steep prices on such items.
You will likely be on a high from all of the excitement, but too exhausted to do anything too strenuous. Consider hiring a DVD or a mutually-loved CD to create a homely, relaxed atmosphere. This ambience is further enhanced by making the room smell great. Use incense, scented candles or a room freshener to heighten the senses. Vanilla and grapefruit are very soothing scents.
Dim the lights or use candles or fairy lights to create a romantic, relaxed area in which to enjoy one another's company. These lights are also the most flattering. Decorate the suite with balloons, flower petals, feathers and so on. Create a fantasy area that transports both of you out of the hustle and bustle of the preceding few months and into a space of love and romance.
Remember to pack a change of clothes so that you do not have to go straight from your wedding attire into your lingerie. Include a comfy set of clothes in which you can travel or laze around as well as a sexy set of negligee for those "first night" escapades. Do not even consider wearing your baggy flannel pyjamas on the first night. This is a special event and it gives you the opportunity to spoil one another, whether in a daring or romantic way. Pack clothes you need for the next day too, whether this involved travelling or meeting friends and family.
If you are tired, have a bath and consider napping for an hour or two. There is no point trying to have steamy sex when you are half asleep, so get some rest and then make the most out of your renewed energy.
Remember to put a 'Do Not Disturb' sign on the door so that the two of you have a chance to sleep late the next morning. However, if you have to be up at a certain time (to catch flights or meet your family for breakfast), plan a formal wake-up call with the hotel or a good friend.
Coming to a room that is set up just to be enjoyed in the intimacy of one another's company is the perfect end to a long, love-filled day.

Photo Credit: www.sterminshotel.co.uk