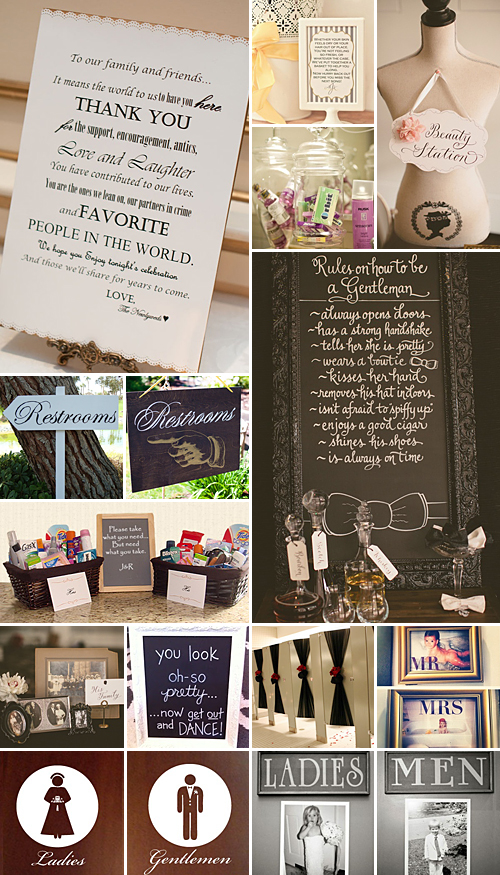 So not all of your guests will necessarily notice the pretty floral detail on the wedding cake or the lovely draping over the DJ station, but the one place that every guest will be sure to scrutinise is the restroom. While it's generally the last area that brides think to decorate, you can see why it should be on top of the priority list.
First, let's look at a couple of ideas for creative restroom signs:
Use picture or silhouette of a typical bride and a groom.
The words "Mr" and "Mrs", "girl" and "boy, or "him" and "her".
Use a picture of you (now or as a child) to indicate the ladies', and picture of him for the men's.
Keep it simple with little emoticons – for instance, lips for girls and moustache for the men, or a parasol for the ladies and a top hat for the gents.
Use opposing colours like blue and pink or peach and charcoal to indicate the two different restrooms.
Put a twist on the traditional man and woman restroom figurines – for instance, add funny facial expressions or mini "accessories" that is true to you and the groom.
And now, to make the restroom experience an even more pleasant one, give these ideas a try:
Place a full makeup kit in the female bathroom so the ladies can freshen up, and leave some aftershave and breath mints for the men.
Use the space to display lovely pictures of you and your new hubby or pictures of your family/friends in the girls' bathroom and his family/friends in the guys'.
Give guests something interesting to read while they're freshening up or waiting for a friend – for instance, a sheet of dance moves to try out when they get back out there, a memorable poem or a guide to being the perfect lady/gentleman.
Decorate the room in the same style as the wedding venue, mimicking the colour scheme and some of the table decorations.
Keep it smelling fresh and inviting with simple floral bouquets, scented candles or bowls of potpourri.
Make sure there are plenty of fresh towels and face cloths available as well as hand lotion and liquid soap.
For more Wedding Restroom Ideas, the original photos above and their credits, make sure to check out our Wedding Restroom Ideas Pinterest Board!