Saying "Thank You"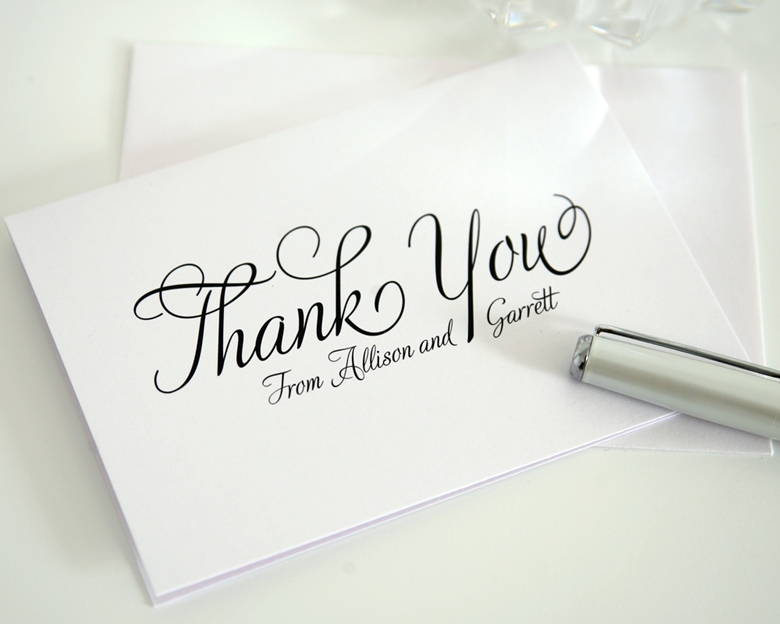 You were laden with gorgeous gifts (and some not-so-gorgeous ones, perhaps) from friends, workmates and family. You spent hours unwrapping them, squealing with excitement and moving them around your new home. Now it is time to thank the people that made the time and spent the money to get you these heartfelt presents to get you started in your life as husband and wife. A personal note sent to each giver is the perfect way to express your thanks.
First of all, choose tasteful paper and a matching envelope so that the elegance of your day remains part of this note, and so that the recipient can see the effort you have put into it. Begin each note with "Dear" and the name or names of the people that gave you the gift. Start off by expressing your heartfelt thanks, and name what gift you received from them (this adds a personal touch and reassures them that, when you thank them, you truly mean it, rather than sending out a generic letter to all of your guests).
The next step is to add a brief sentence about what you plan to do with the gift or how you plan to enjoy it. For example, if they bought you a picture frame, you could write "Thank you for the lovely pewter picture frame. I can't wait to fill it with a family / wedding / holiday / honeymoon photo to remind me of happy times. I just know it will look great on the hall stand".
Next, be genuine about how you felt seeing them at your wedding and when you will see them again. If you do not see them often, simply tell them that they are often in your thoughts and you were delighted that they made the effort to share your special day with you.
Lastly, thank them once again before closing your letter or note with respectful, warm or loving words, depending on your relationship with the giver (such as "Love, Claire" or "Warmest wishes, Claire" for friends and family, but "Sincerely, Claire" for your boss or colleagues). Before posting it, make sure that there are no spelling mistakes, ink blots or tears on the paper (as they likely evaluated the quality of your gift before giving it to you) and ensure that there is enough postage to get it to its destination.
In the case of cash, vouchers or a cheque being given as gifts, it is important that you do not mention the amount of money that was given to you. In fact, referring to it simply as "your gift" is appropriate and enough. Also, tell them how you plan to spend it so that they know that it will be useful to you or will buy you something that you really will enjoy. You could say "Thank you for the generous gift. I look forward to using it to get the new curtains that Ryan and I have been eyeing for so long" or "We will be indulging in a romantic dinner for two at Miller's Thumb".
Sending genuine 'Thank You' notes with the appropriate wording is very meaningful to your guests. While it may be time-consuming, it also allows you the opportunity to say what you may not have had time to express at the reception and is well worth the effort.
Photo Credit: www.shineweddinginvitations.com