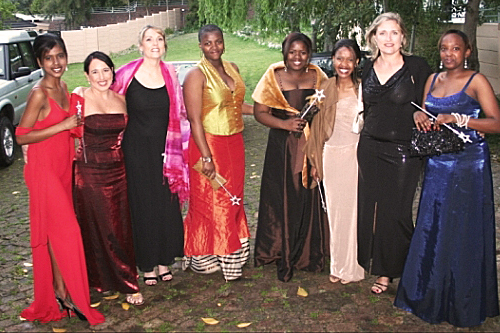 Although charity efforts are almost always inspiring, it happens that, every once in a while, one of these initiatives just bowls the Celebration.co.za team over. The Princess Project is one of these.
In January 2007, Helga Leurs (a lecturer at the University of Stellenbosch being one of her many "day jobs") was struck by inspiration when considering how she could make a real difference in the lives of those around her. Her idea was to have people donate their old evening dresses, wedding gowns and Matric dance attire and to distribute these to disadvantaged teens that would otherwise have nothing suitable to wear to their dance. In fact, many of the girls that receive these beautiful gowns have practically nothing. To be pampered and preened into the princesses that they are on the inside is an indescribable privilege for these young ladies.
This has made an enormous difference in the lives and morale of these young adults, who get to enjoy the elegance and beauty of the Matric dance celebrations. In fact, this project has begun to grow to such an extent, that it now includes building community centres and sourcing life coaches for these communities. In addition, the short-term plans include providing bridal gowns to ladies and men's attire for dances and weddings.
Items that the Princess Project requires include:
Dresses (Matric, evening or bridal)
Shoes
Make-up
Jewellery
Hair accessories
To learn more about this wonderful project, visit www.princessproject.co.za or email Helga on info@princessproject.co.za.