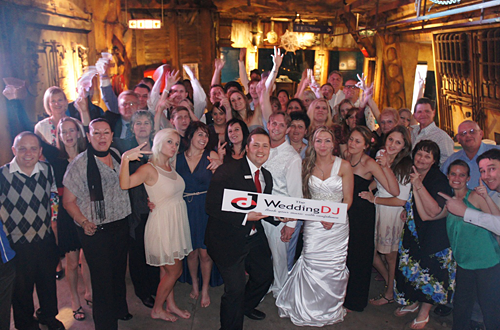 Planning, planning and then more ….PLANNING!  Weddings are all about planning, to be prepared and ensuring that everything runs as smoothly and effortlessly as possibly on your wedding day.
The first advice I can give is quite simple, but often overlooked – HIRE EXPERIENCED PROFESSIONALS.
Yes sure, you pay more and will have to book a lot further in advance to secure their services but trust me, the expert advice leading up to your wedding, as well as the calmness and professionalism they bring to your wedding day are invaluable.  A remarkable fact that you only wish you had known BEFOREHAND, and the biggest mistake bridal couples make when planning a wedding.  From the venue, decor, photos, video, DJ, marriage officer, cake, dress maker and even wedding planner, if your budget allows – book the best and let them guide you along the effortless path to the perfect wedding.
From our vast experience as THE WEDDING DJ, we would like to offer some advice from a DJs PERSPECTIVE to all bridal couples to ensure that your wedding day turns out the way you've always imagined.
Please note: We are Durban based, so apply the guidance as you will be sure to have the most amazing wedding celebration ever!
Ceremonies
Chapel
Place a small table out of the way at the back of the chapel for the DJ, we use cordless microphones and do not need to be in your photos.
We only need to be in front of the chapel if you have live musicians who will be using our PA system.
Outdoors
Bottled water and sun umbrellas will always be welcomed by your guests, especially the grandparents.
Candle lighting ceremonies are usually difficult to perform due to the elements, so either do this indoors or consider an alternative like a sand pouring ceremony.  Please have a Plan B in place, especially during Spring and Summer.
Beach
KZN is a tropical region, which means that we have scattered rainfall throughout the summer months. The sand gets extremely hot from December to February and the humidity makes beach weddings quite uncomfortable.  Please consider beach weddings in the winter months, or early morning.
Parasols are a must for beach weddings
Place bottles of water in baskets for your guests
Sandals in a basket for your guests adds a nice touch to your ceremony
Please ensure that your chosen ceremony site has easy access to the beach, not only for service providers who have to carry equipment but your guests who will have to negotiate sand and rocks in high heels and cocktail dresses
Kwa-Zulu Natal's beaches are extremely windy, even on the best days.  Beach ceremonies look great on photos but are uncomfortable at the best of times
Please contact us if you need venue recommendations for beach weddings
Receptions
The Do's
Cut cake AFTER CEREMONY, so guests actually eat it and it provides a talking point and snack whilst you are on your creative shoot.
Hire waiters (People mill around the bar if not in the same room)
Make sure your MC is not shy or nervous. Rather pay a little extra for a professional, than have a nervous MC who could make everyone uncomfortable, not to mention convey the important messages.
Wait for everyone to finish dessert before you do your first dance and open the dance floor
Place the DJ table as close to the dance floor as possible.
The Don'ts
Don't hire a photo booth from 7pm onwards, rather book it for during the pre-drinks and ensure that it closes before the first dance starts.
Don't start the dancing until ALL the meals are done.
Don't forget to cater for all the suppliers
Dance Floor and DJ Table
Use a black table cloth for the DJ table, this will hide most of the cables.
Please place the DJ table as close to the dance floor as possible.
We need to place speakers fairly close to the dance floor, as we place them against a wall, please ensure that no tables are in the way.
If you are unsure about your DJ's requirements in respect of venue layout, please speak to us first.
For more information, please get in touch with The Wedding DJ to assist you with your music and DJ requirements.