Wedding Night Sex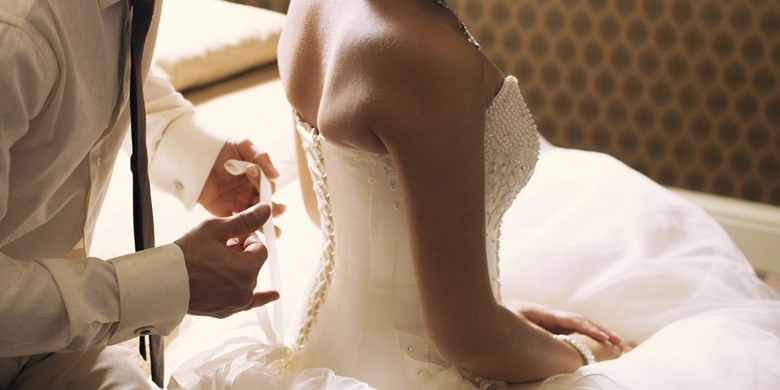 Statistics have proven that just over half of the modern-day bridal couples go straight to sleep on their first night as man and wife. Weddings can be exhausting, no matter how romantic and enjoyable and it is little wonder that most couples just do not have the stamina to engage in those first night escapades that so many imagine. However, if you would like to make this night a night of passion and fun, there are a few tips and guidelines that may be useful.
Begin your seduction during the wedding reception by whispering sweet nothings (or naughty thoughts) into her ear. This will remind both of you of your own private after-party and will help you to say no to that eighth glass of champagne (which could hamper your performance).
Tell your bride how stunning she looked and how happy you are to have her as a permanent part of your life. She should, and probably will, do the same. This kind of 'pillow talk' will definitely tempt even the most exhausted of girls to reward you in kind. Once you have said these meaningful and sincere things to her, you may want to turn your tone into one of being more sexually oriented, such as what your thoughts were when you were removing her garter.
Take your time to rest a little. Have a full glass of water first, and then pour a glass of wine or a mug of coffee and sit together on the couch or bed. Have a light snack if you did not have a chance to eat much at the wedding. Just chat about the wedding, laugh about embarrassing uncles and get excited about your new adventure together.
Do not expect the hottest, longest-lasting sex of your life. Building your expectations too high will likely end in disappointment.
Plan ahead for this night so that you are prepared with music to set the mood, wine she likes, and so on. This is a once-in-a-lifetime event, so make the extra effort.
If you know of a specific fantasy of hers that you have not yet fulfilled (such as seeing you in your old Navy uniform, for example), let this be the time. Alternatively, if you are particularly nervous about the evening's conjugal nature, introduce an element of humour to break the ice. You could wear a feather thong or dress up like a schoolboy to get her smiling.
Read some books and check out some websites to get new ideas for this special night. While these can include different props and exciting positions, they should not be too daring. She may not feel comfortable trying such new things on this special occasion and your expectations will be high if you have had preconceptions about how a certain position would make you feel. So, keep it new and fresh, but focused on love and intimacy, rather than making her feel like she's making her own video.
Try to build up anticipation by not having sex with one another for about a month before the time. This increases desire and anticipation.
If you had decided to remain a virgin until your wedding night, do not stress out about making it an unbelievable performance. It is wise to read some books on great sex and keep in mind what they say without trying to memorise them or perform textbook feats. You may want to ask some good and trusted friends for their advice. The key is to relax and to make it about celebrating your love together, rather than showing her all your tricks.
Photo Credit: www.mycong.com