Striking Straws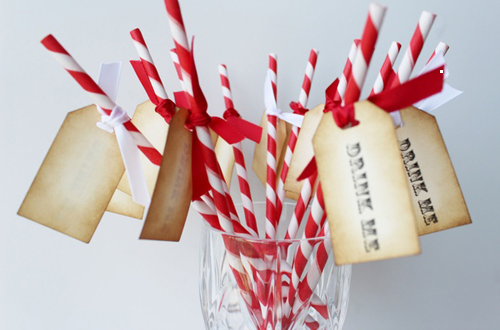 The details are, often, what make your day extra beautiful and memorable to those sharing it with you. Straws have become a real art-form to some providers that value the little things in life. Offer guests a fun, quirky reminder of your personalities by including some really cute straws.
There are plenty of opportunities to use straws at your wedding. Refreshing welcome cocktails served to guests while they await your arrival at the reception, all cold drinks and mixes served at the bar, milkshakes or Don Pedro's, and so on, all give you the chance to showcase your specialised straws.
Colours – enhance your colour theme by having straws in your theme colours.
Designs – some suppliers offer their clients the option of printing specialised straws with their initials and wedding date printed onto them. Some basic designs that should be available may be hearts or wedding bells.
Funny – give your guests the bendy, looped straws that delighted us all as little children. This will give them a sense of romance and nostalgia, and will make for more than a few laughs.
Embellishments – it's easy to make an ordinary straw a little less plain by attaching sweet notes, info flags (e.g. Piña Colada, Orange Juice) or funky poems or sayings on a printed piece of card that is tied to the straw or attached by punching holes and threading the straw through these.
The secret to having striking straws is to be adventurous and fun, not shying away from something a little out of the ordinary.