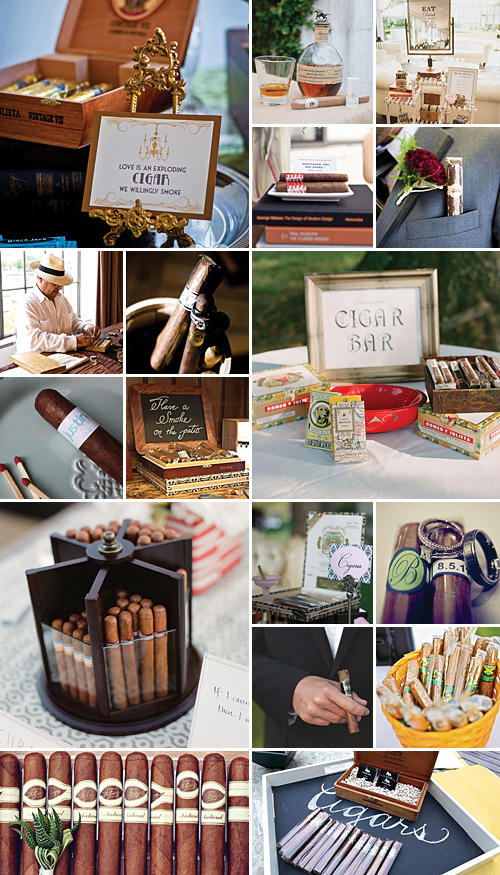 Wedding chatter and excitement generally revolves around the bride and all the ladies in her entourage – so let's hear it for the dashing gentlemen for a change! Inspired by this season's Gatsby craze, cigars are such a treat and more often than not, it's not just the boys who line up to take a puff.
Cigars aren't cheap and should therefore only be included in the wedding budget if it's in line with the actual theme and style of the occasion. Once you've set your mind to it, you need to consider how the cigars will be incorporated into the festivities – after all, there's a time and place for everything, and lighting a cigar shouldn't feel forced or out of place.
One rather elaborate way is to hire a cigar rolling expert to teach the boys to roll their very own cheroot. Traditional cigar rollers are typically attired in authentic Dominican clothes and a straw hat, which could add a very real and earthy touch to the proceedings. Alternatively, turn a cosy corner into a cigar bar where the dashing gents can puff away and sip on their favourite malts – and don't forget to get a picture of this!
If you're on a tight budget, simply invest in a single box of luxurious cigars for the groom and groomsmen. Just like you and the bridesmaids will probably sip champagne while you're getting all dolled up, the guys can then light a cigar to get the excitement levels up.
The other option is of course cigars as guest favours – ideal if you're not too keen on greeting a tobacco smelling hubby-to-be at the altar. Wrapped, tagged and placed next to a whisky glass, cigars can instantly class up just about any guest table and your male guests will be too taken with the idea! Then again, lighting a cigar is often considered a very luck ritual and generally associated with celebratory events, so go on – let the lads light a Cuban or a Belvedere and celebrate your union in true vintage style!
For more Wedding Cigar Ideas, the original photos above and their credits, make sure to check out our Wedding Cigar Pinterest Board!