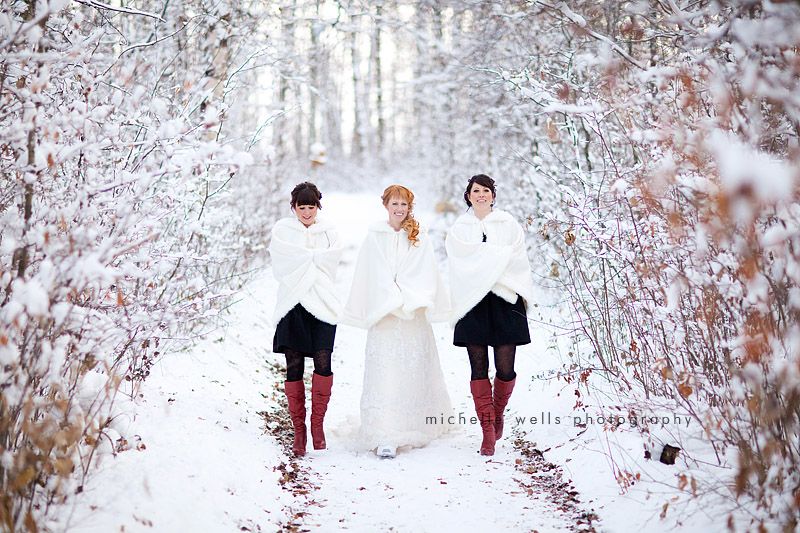 Who wouldn't choose to get married at the time of year when glamour and enchantment are the major elements? Think roaring fires, candle-lit chapels, gorgeous, elegant sweeping silk dresses trimmed with fur, warm wraps and coats, with soul food on the menu. Yes, summer is perhaps hard to beat, but the magic of winter is for some the season of choice, and the reasons are not hard to see.
What to Wear
It is the winter season that provides the greatest variety when it comes to what to wear. Summer is relegated to sleeveless bodices and plunging necklines, whilst winter invites sophistication, particularly when you can use any number of capes, wraps, shrugs, mohair pashminas and flowing cloaks to add both an element of colour and stylishness to your outfit. Introducing dramatic warm reds or rich greens over white silk with your groom in tails is hard to beat when it comes to making an impression. Conversely a burgundy or rich amber velvet dress is incredibly striking. And tiaras and glittery jewellery accent almost any style.
Choosing a Venue
This is going to have to be indoors as braving the elements in winter is not wise, no matter how optimistic you feel about the sun putting in an appearance. And the more romantic the setting the better. Choose something with at least one fireplace and the possibility of candles and lanterns if you are having an evening wedding. Try and find a venue with character – an old stone church, or a listed building where the charm will create an element of intimacy and the rooms may be small enough to heat easily.
The Menu
This is where you can really pull out all the stops. Hearty soups and rich main dishes served with mulled wine, hot chocolate and a cake full to brimming with fruits; port, sherry and eggnog are favourite fare and there is little here that won't please even the fussiest relative.
Budget Savings
You cannot discount the fact that, despite all the pros about winter weddings, it is also the least popular time to get married in South Africa – it's cold and rainy in Cape Town, although your highveld winters are still pretty gorgeous. It is thus a fairly quiet time of year on the wedding calendar and subsequently you can ask for and find numerous discounts.
Wild at Heart
Winter in the lowveld is possibly the most beautiful season for weddings amidst rhino and lion. In summer these more exotic parts of the country are scorchingly hot, whilst in winter you are almost assured of an abundance of sunshine as it's a summer rainfall region. The evenings are chilly so you can still go for the atmospheric venue, but you can definitely do an outdoor morning or afternoon wedding and be assured of sunshine. It is also the best season to visit this region – the days are milder and you have less chance of contracting malaria!
The Pros
Availability of services and venues
Discounts
Flowers may last longer
Fewer friends on holiday
The Cons
It could rain
You can't get married on the beach
It's cold

Photo Credit: trendybride.net