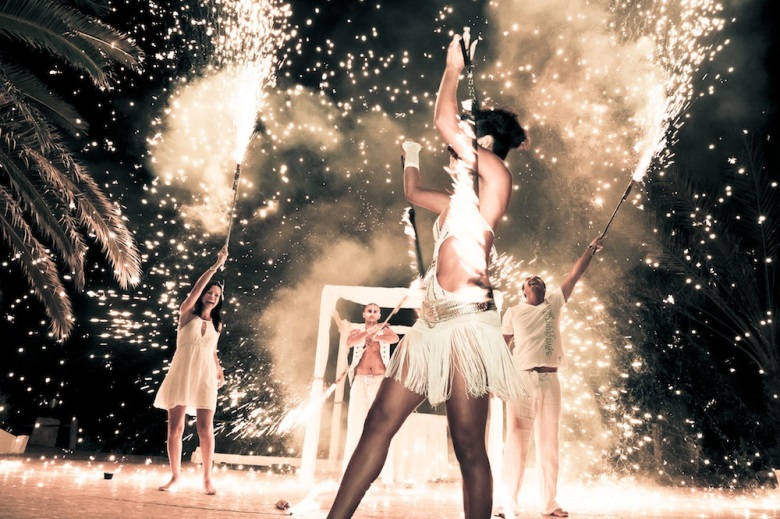 Your wedding is a time for celebration and of great joy. Such jubilation calls for great entertainment so that guests are encouraged to dance the night away in celebration of your big day. However, as with every other aspect of wedding planning today, there are various options available when it comes to choosing entertainment. Usually, the nature of your wedding (e.g. casual, grand, intimate or large) as well as your budget will determine the type of entertainment that you choose. Your entertainment sets the tone for the celebrations to a large degree. Therefore, it is very important that you take the time to meet with various service providers and have clear channels of communication with these ones to ensure that you both agree on the nature of your wedding reception entertainment.
There are, broadly speaking, three main categories of wedding entertainment: 1) a live band, 2) a DJ and 3) pre-recorded music that is played off a laptop.
A Live Band
Having a live band performing at your wedding reception is certainly the most formal and expensive of options. However, it does exude a sense of elegance and an unrivalled quality. This band can play a range of fun hits that are familiar to most in the audience, or can be more specialised (as in the case of a string quartet or jazz band, for example). Before the time, ask your band if they are prepared to play certain numbers if the guests request them at the reception. In addition, ask for their playlist so that you can be sure that your favourites are included and that no inappropriate songs are played (such as a piece that was a favourite of your ex or something that could be religiously offensive to certain guests). Remember that having a live band means that their repertoire is somewhat limited and that their 'sound' or style is characteristic and somewhat unchanging. They cannot go from a Bon Jovi sound to a Soweto String Quartet sound seamlessly.
Disc Jockey (DJ)
A wedding DJ is less costly than a live band and allows you, as the wedding couple, far more flexibility in terms of the range of songs played. In addition, a DJ will likely be prepared to take requests from your wedding guests as he or she should have a large number of popular songs on hand. Confirm with your wedding DJ if this is the case. An experienced DJ that has experience at weddings will play an integral role in setting the mood and encouraging guests to dance and have a good time. A DJ is not as formal or elegant as a live band, though, so consider what type of wedding you plan to have and ensure that this style corresponds favourably with your choice of entertainment. A successful DJ will be able to perceive the flow of the celebrations and adjust their playlist accordingly, ensuring that the vibe is maintained and that the guests keep having fun.
Pre-recorded Music
A laptop linked to an amplifier and a good set of speakers has made it possible for almost anyone to play DJ. This is certainly one of the most budget-friendly choices, especially if you get a cousin or friend to man the laptop and ensure that the songs are playing smoothly. This allows you, as the couple, to choose dozens of your favourite songs, giving you the ultimate control over what is played and in what order. The disadvantage lies in having to appoint someone to sit at the laptop and be attentive to the quality and volume of the music. If this person is a close friend or family member, they may be willing to do it for free. However, if you have to ask someone a little less familiar, you will likely need to pay them and trust in their judgement. If this person was going to be an invited wedding guest, bear in mind that asking them to do this for you means them having to sit there all evening, not being able to join in the celebrations.
For brides- and grooms-to-be that want to explore different options, consider getting a karaoke machine and encouraging guests to belt their favourite tunes out, or in investing in a classic jukebox.
Photo Credit: energyentertainments.com.au