Get Your Guests To Hit The Dance Floor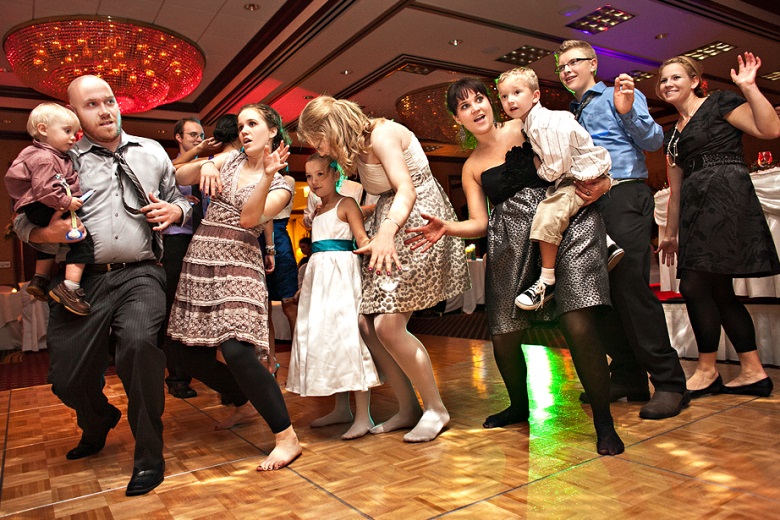 Dancing is the magical ingredient that rids people of stress, puts an instant smile on your face and gets the atmosphere of fun going at your wedding. Many couples have nightmarish visions of their wedding reception being filled with awkwardly silent family and friends all gazing at a lone couple of 12-year-olds shuffling on the dance floor. But, take heart! There are a few secrets to ensuring that your tables are suitably deserted as couples flock to sport their unique gyrations.
First of all, make sure that you have a good, open relationship with the person in charge of your music selection (whether a band, DJ or laptop-operator!). They need to understand your requirements and preferences and also need to be able to 'read' your audience. If there is a lull on the dance floor, he or she needs to pick up the pace.
It is important to have a variety of styles and genres of music. This is especially true if your wedding guests come from different age groups, cultures, and so on. To ensure that the largest proportion of them enjoy themselves, choose tasteful music (i.e. no Eminem with swearing and offensive lyrics). Take your guests into account when choosing your music. Being adamant about a certain style of music may only exclude guests and take away from the potential fun of the event. In addition, by mixing the styles, you ensure that people who came onto the floor for a particular song are likely to stay for the next song, and the next.
If you known that some of your guests absolutely love a song and cannot resist leaping out of their chairs to dance to it, then play it. Even if you have to resort to Billy Ray Cyrus' Achy Breaky Heart, it will be worth it to see your dance floor occupied by giggling line-dancers. Have your wedding DJ or band leader announce that this song is being played for a particular group of people, so that they feel special and motivated to get up and boogie. If you do not know what songs your guests cannot refuse, ask them to include their favourite number on their wedding invitation, so that they can look forward to the possibility of hearing it. And, if their song is played, it will certainly be very difficult for them to stay sitting, after having been in expectation for so long. Be sure to take the lead, getting your new spouse, the bridesmaids and the groomsmen on the dance floor, so that other guests are encouraged to join in.
Once all the younglings are on the dance floor, do not forget about the older ones. Try to include fun hits from the 50's and 60's that they can enjoy. These are also really popular amongst younger ones, so this should go down a treat.
Some great choices for wedding music include:
Christina Aguilera — "Ain't No Other Man"
Ciara — "One Two Step"
Justin Timberlake — "Summer Love"
Outkast — "The Way You Move"
Commodores — "Celebration"
Kool & The Gang — "Get Down On It"
The Clash — "Should I Stay or Should I Go"
The Weather Girls — "It's Raining Men"
Violent Femmes — "Blister In The Sun"
Grand Funk Railroad — "Some Kind Of Wonderful"
Lynyrd Skynyrd — "Sweet Home Alabama"
Rolling Stones — "Miss You"
Aretha Franklin — "Respect"
Beatles — "Twist & Shout"
Credence Clearwater Revival — "Proud Mary"
Four Seasons — "Oh What A Night"
Rolling Stones — "Satisfaction"
Supremes — "You Can't Hurry Love"
Chubby Checker — "The Twist"
Contours — "Do You Love Me"
Elvis Presley — "Can't Help Falling In Love"
Platters — "Only You"
Frank Sinatra — "It Had To Be You"
Photo Credit: www.parisi-images.com