Engagement Pictures - Why and How?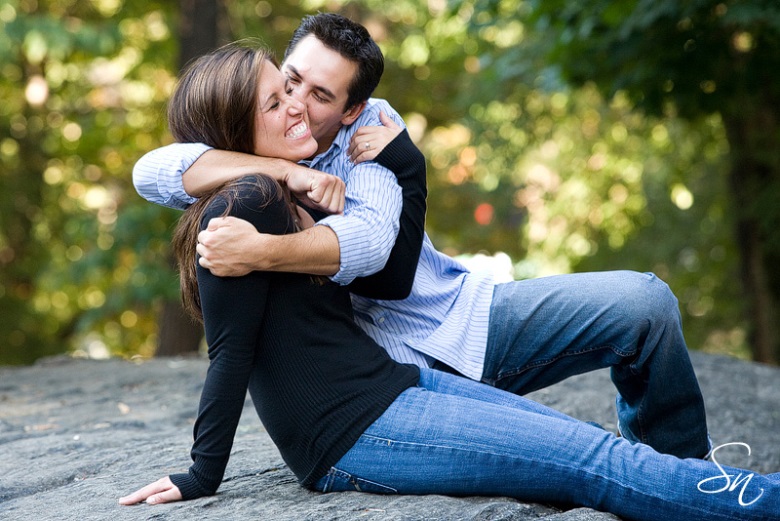 Engagement photographs may not be a top priority to couples that are busy with the excitement and stress of planning their big wedding day. They may seem futile, or may just be an interruption to the already busy time that precedes any marriage. But, there are several advantages to having a formal engagement photo shoot.
First of all, the engagement pictures allow much more flexibility and sense of fun than some brides and grooms would like in their wedding pictures. The couple can laugh, play and express the nature of their relationship in fun and silly ways.
These pictures are also a way of capturing the start of a very important journey together. They mark the beginning of your official union and your agreement to spend the rest of your lives together, sharing everything that is most important to you. This photo shoot thus allows you to establish the importance of this event, rather than simply letting it go by as a formality that needed to be completed in order to have a wedding. After months of planning and some intense pre-wedding nerves, these pictures, so full of love and romance, are great to look at and reminisce over.
Another important reason for the engagement photo shoot is to allow the bride- and groom-to-be to get to know their wedding photographer and vice versa. Of course, using the same photographer as for your wedding is optimal, but not always possible. If you do manage to schedule both shoots with the same person, it allows you as a couple to communicate with him or her, to relax in front of the camera and to establish an understanding of what looks good and what does not. This results in more natural photographs, both for the wedding and for the engagement.
By scheduling the engagement photos to be taken as soon as possible after the event, the couple and the photographer have time to examine the result and play around with poses, angles and post-production techniques. This guarantees that your wedding photos will be everything that you want them to be.
To make your engagement pictures as meaningful to you as possible, feel free to play around in front of the camera, interacting with one another intimately and in a genuine way. Encourage your photographer to be as adventurous and relaxed as they feel appropriate. A great way to ensure that your pictures are personal and unique is to have them taken in a place that holds some significance to the two of you and your relationship. This could be the first place you kissed, where you met one another, your favourite place to be together or the place that the formal proposal took place. Ask your photographer to take pictures when you are not expecting it so that the result is natural photos that reflect the nature of your relationship.
The pictures taken on your engagement photo shoot can be used for the wedding as part of the invitations, or as reminders for guests to save the date. Your favourite picture can also accompany your engagement announcement in your local newspaper for a more personal approach.
The following tips will help you as a couple to create the best engagement pictures:
Relax and have a genuine laugh while taking these pictures
Make sure that you, your partner and the photographer are all aware of one another's expectations and preferences
Use different backdrops, settings and poses to create a unique set of pictures
These pictures are all about love and romance so be sure to be affectionate with one another
Dress in solid colours that complement one another and avoid lots of patterns, jewellery and other distractions
Photo Credit: drawingforkids.org