Picture Perfect Polaroids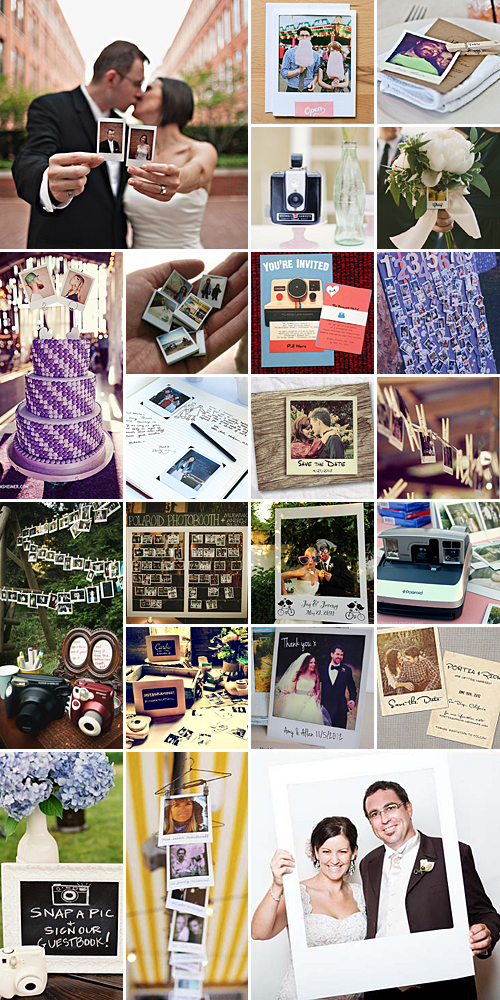 "Old is always better" is a phrase that can almost be considered the motto of the decade. And what says "old, vintage and nostalgic" better than a polaroid? These days the olden day polaroid camera can be purchased (or rented) from just about any novelty shop and it definitely has the potential to take any wedding to the next vintage level.
Polaroids are produced instantaneously, which makes it the ideal wedding wow-factor  – for instance, after having their pictures snapped, guests can stick it in the guest book along with their message of congratulations, making it the perfect there-and-then memory. The pictures might not be perfect, but they certainly have a way of capturing the atmosphere of a vintage style wedding like no digital camera can.
If you don't necessarily have access to a polaroid camera, there's always the option of turning an existing photo into a polaroid, using a photo manipulating program.  Ask a designer friend to give you a hand if you're not too au fait with these things. However many photographers these days offer a polaroid service, so be sure to ask around.
Use polaroid snaps of you and your hubby to compile your love story. Clip the snapshots onto a line with pegs and hang it in the foyer.
Make a giant polaroid frame out of wood or thick cardboard and use it as a prop in the photo booth or for your own wedding photo shoot.
Rent or buy a real polaroid camera and ask one of your sharp-eyed friends to capture the day in a real and personal way. This way you can also chop a few hours off your photographer's bill.
Ask each of your guests to write their words of congratulations on a blank black polaroid using a silver tipped pen.
Instead of a normal seating plan, get a picture of each of your guests and turn it into polaroid place settings.
Snap a cute polaroid of the two of you and have it reproduced for your save-the-dates, wedding invitations or stationery.
Make a visual polaroid menu! Simply snap a couple of pictures when you're doing your culinary trial run, and make a little flip book for each of the guest tables.
For more polaroid wedding ideas, the original photos and their credits, make sure to check out our Polaroid Wedding Ideas Pinterest Board!