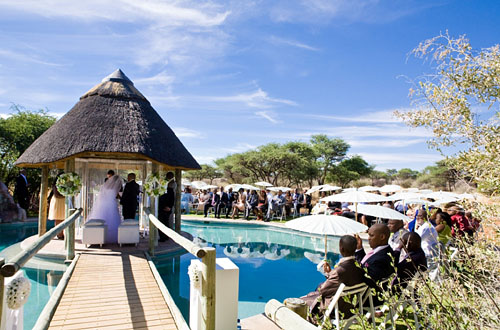 Wedding Coordination and design by Wedding Concepts
Says the team from Wedding Concepts:
"When we got the call from this charming couple, whose dream it was to have their wedding back home in Kimberley, we were filled with excitement and slightly overwhelmed at the same time.  We've had the wonderful opportunity of planning many a wedding all over the country but never in Kimberley before!  Zola and Qhama were after a glamorous African wedding at home in the bush, with a contemporary feel and modern twist that only Wedding Concepts could achieve in the dry arid landscape of the Northern Cape.
So off we went to the Mattanu Private Game Reserve in Barkley West, which is an hour outside of Kimberley.  The tricky task was not finding the best way to use this gorgeous and rustic setting to its best capabilities but finding trusted suppliers of a high standard and calibre to work with, in order to bring this couple's unique vision to life.  Many where actually sourced from nearby Bloemfontein, nothing was too far away to make sure that Zola & Qhama's vision was realized!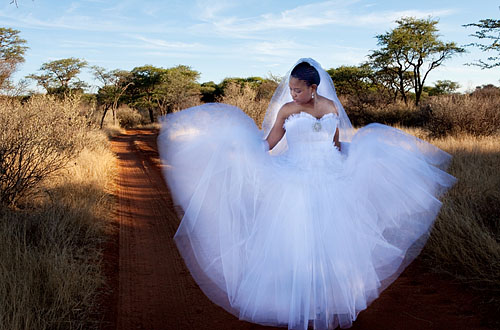 Nearly 132 guests flew in from all over the country to celebrate the couple's special day. From their suggestion we created a fresh and modern chic. With a neutral canvas of white and green, constructed flowers of white orchids, roses, pincushions and splashes of blue delphiniums adorning the tables, and where amber glasses were added to round off the look and serve as a subtle reminder of the colour palate that featured predominantly outdoors.  From the crisp white linens, to the contemporary bikini chairs and carefully arranged flowers, the look communicated was understated modern glamour and simplicity.
The ceremony took place under a thatched gazebo surrounded by water, and the bride's brother sang an emotional hymn during the traditional proceedings. Crystal chandeliers were suspended at the entrance to the ceremony area and were a stunning contrast against the African thorn trees. Gifts given to guests in thanks included mint green parasols for the ladies to shade the sun's rays and for the guy's, personalised handkerchiefs with a Qhama's family tribal symbol, the elephant, printed onto it. Pre-drinks was held in the adjacent boma, where guests sipped on trendy Cosmos and Mojitios and listened to a classical string quartet play, while Zola & Qhama enjoyed a photo session with the rugged landscape and sunset as their background.
[flgallery id=73 /]
This was a wonderful celebration of two people's love for each other and the African bush made the perfect setting for this love to be celebrated! On the day of the wedding, a grand male kudu even made an appearance at the ceremony site.  If this wasn't a blessing from the bush, then we don't know what is! Being from the Cape we are blessed with majestic mountains, two oceans and lush landscape. Coming to Kimberley with a change of scenery to vast savannah grasslands and imposing Acacia thorn trees initially proved to be a unique challenge, but after all our hard work, we are glad to say that Zola and Qhama's celebration was one wedding that the Northern Cape will definitely not soon forget!"