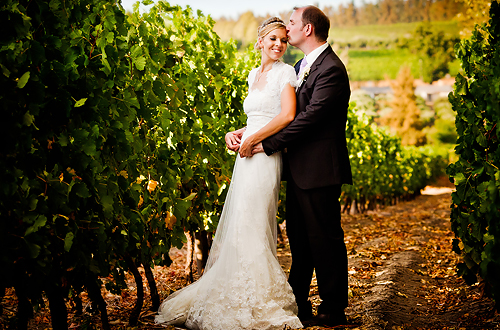 About the Bride
30 years young; born & bred Namibian; after school, successfully absolved an apprenticeship in Hotel Management in Munich, Germany. Lived and worked in Germany until her relocation to South Africa in August 2010.
Settled in Franschhoek in February 2011 where they opened a specialist wine shop together.
Reason to get married: "It just felt right!"
About the Groom
36 years young; born & bred Namibian; after Matric in 1994, successfully absolved an apprenticeship in Hotel Management in Germany. Moved to South Africa end of 1999 and settled in Franschhoek in 2000. Established his own special wine shop – namely the HOUSE OF WINES – in 2002 and been in the wine retail business since then.
In March 2011, he and Bettina, reopened the wine shop at a new location and with new look offering a handpicked selection of south African vintage wines, unique wine accessories and
A new feature in South Africa: Oil & Vinegars available on tap.
Reason to get married: "I found my soul mate in Bettina and she complements and completes me in any and every way." 
How did you meet?
Siegie
We met on the 75th Year Anniversary Festival of the German Boarding School in Otjiwarongo, Namibia, which took place on the 07.03.2008.
We were introduced by her older brother, Michael, with whom I attended the high and boarding school and who was my best friend during those school years.
I knew he had two younger sisters but Bettina, I have seen just once before as 10 year old child at the same occasion ( Boarding School Festival ) 16 years previously, in 1992.
As Michael and me were standing in the room and waiting for his wife to join us, he mentioned casually that his youngest sister Bettina also will be joining us this evening. A moment later, a slim, tall, absolute gorgeous blond entered the venue and strolled slowly towards us.
I mentioned to Michael, to look at that hot, cute "chick" and that I probably would we to old anyway for her because I estimated her age at around 20. Michael looked at me with a huge grin on his face and when THAT "chick" finally reached our position, he introduced me to her as his little sister Bettina. I was stunned and could hardly speak in that moment. All I could manage was to shake her hand, followed by a short "hello, pleased to meet you!"
It turned out to be a great evening where we talked a lot and quickly noticed that we have a lot in common. She accepted my invitation to visit me in the Cape before her vacation was over and she had to return to Germany, where she lived and worked for the past 8 years.
After her 3 day visit to the Cape, it took one more year for us to work things out and finally started a long distance relationship which ended happily in her relocating from Germany to South Africa in August 2010.
Bettina
I had a great time with Siegie on that mentioned festival. He was a gentleman from the start I enjoyed his company. He was straight forward and that was what I liked about him.
After I left for Germany again, he came to visit me a few months later while travelling the country.
He then confessed that he was in love with me. I was positively shocked but was unsure about the future because I had my life in Germany and he in South Africa.
So I sadly rejected him. After almost 8 months of no contact, and a lot of thinking on my side, we met again in Windhoek, while he was visiting my brother.
Just days before I received an absolute convincing email from him and that's where I just couldn't resist him anymore and I gave us a chance. So we went for a cup of coffee the next day but we were both to scared to discuss this matter. It had to take a power failure in the whole shopping centre until I then confessed my love to him.
That set the way to our joint future. I decided to finalise my obligations that I had in Germany and we agreed on a long distance relationship until July 2010.
In August 2010, Siegie helped to pack my belongings in Germany and have them shipped to Cape Town and further to Franschhoek, where we are happily living now.
How long were you together before the wedding proposal?
1 year.
About the Proposal
Siegie
I proposed to Bettina on the 15.03.2010 at the Mont Rochelle Hotel in Franschhoek. I decided to propose on the date of our 1st year anniversary, at our favourite place, the mentioned Mont Rochelle Hotel in Franschhoek .
I had contacted the hotel-own italian pianist, called Alfio, many months before and had asked him to rehearse our favourite love song from a German rock band called Silbermond" (Silver Moon).
The songs name fitted the occasion:  "Das Beste"  – The Best, which refers to the love that you have found being the best that happened to you in life.
I had booked a table for this special dinner, where I would – after a secret sign to the pianist – propose to her while our song was playing. Bettina knew we would go out for dinner on our day of anniversary but she didn't know about the overnight stay in one of the luxury hotel suites especially prepared for us nor did she expect a proposal.
After the main course, I could convince Bettina to get some fresh summer air on the terrace of the hotel restaurant where we would have a perfect view of the valley and were surrounded by the beautiful Franschhoek mountains.
While Bettina was asking herself, how an Italian pianist in the middle of the Cape Winelands could know the melody of a German love song of a band which is unknown in South Africa,
I was kneeling already before her and asked her to marry me.  After a short moment of disbelieve she gladly and happily excepted.
Bettina
I was speechless. The only option was to say: Yes!
How far in advance did you choose to have your wedding after the proposal? And, why?
We agreed on a concrete wedding date in October 2010, after the successful  immigration process of Bettina to South Africa. Our planning started the same month.
Due to our mainly overseas guests, we planned to get our invitations mailed at least 1 year before the wedding. That gave everybody enough time to RSVP and plan their trip to South Africa.
The Wedding Planning Process
After the proposal, Bettina bought every Wedding Magazine available in South Africa and Germany to get various ideas and styles. We quickly agreed on the basic idea to give the wedding a South African touch. That included the use of Protea flowers as main decorating item.
Further, we liked the idea to combine south African and German traditions. Secondly, we wanted to show our foreign guests, the beauty of the Cape Winelands.
Therefore we planned to marry on a wine estate preferably with typical Cape Dutch buildings surrounded by vines and with additional accommodation facilities.
Lastly, we wanted to skip the traditional bachelor/hen parties and rather include all guests in a whole weekend of wedding festivities where everybody would meet everybody and nobody would leave as unknown stranger again.
In February 2011, we decided to get assistants from a Cape Town based wedding planning company namely Wedding Concepts and first met with Kim Werner end of March.
The whole process took more than a year until everything was finally decided, agreed on and finalised.
It was one of the most difficult tasks of our lives but full of fun!
Did you have a hen party / kitchen tea / stag night / bachelor / bachelorette party?
The day before the wedding, we had organised a "Meet & Greet" Evening for all guests on Delaire Graaf Wine Estate in Stellenbosch where Canapes, Cheese & Wine was served at their wine tasting centre. It was a perfect summer evening and the view onto the Simonsberg mountain & valley was just magnificent.
The event was a full success and turned out to be exactly what we wanted.
Wedding Details
It was a perfect day. While everybody enjoyed a casual breakfast, the bride and her bridesmaids were already getting styled by hired Stylist Nicolette Marx.
Around 2 o'clock our wedding photographer John Armstrong was getting ready to get the first shots of Bettina in her San Patrick Wedding dream dress and her bridesmaids.
At 15h00, the ceremony commenced. While the string quartet was playing the classical piece "Cannon in D", Bettinas Father led her slowly to the with the Protea decorated Gazebo where Siegie and the theologian Robert Steiner were awaiting her.
Bettina was incredibly nervous and looked like she would faint right in front of her husband-to-be.
The ceremony was conducted in German and English. Devoutly, we listened to  every word followed by our own created wedding vows.  It was a short but a highly emotional Ceremony which was concluded with the switch of the specially designed wedding rings and the obligatory kiss.
Guests were served canapés and rose petal infused bubbly while we were taken on an odyssey of various photo shoots.
Around 18h00, we were awaited by all our family and friends, and with the song "Marry You" by Bruno Mars playing in the background, entered the beautifully lavender, champagne and in gold decorated marquee where we lighted a traditional wedding candle as symbol for our eternal love.
After the welcoming speech of Michael, the MC, starters were served. Months before we had selected a warm salad with duck and home-made remoulade sauce which proofed to perfect to start the dinner. Everybody enjoyed it.
After an emotional speech of the groom combined with funny anecdotes, the main course was served to our curious awaiting guest. Tender Beef Filet, cauliflower purée served with a roasted garlic sauce let everybody's mouths water. It was delicious!
After a few funny wedding games which had many guests in tears of laughter, we decided to open the dance floor with our first dance. As in the proposal, 2 years before, our favourite song by the German band "Silbermond" was selected by us and played by our hired DJ.
Shortly afterwards, everybody joined us on the dance floor and all had a marvellous time, dancing, twisting and turning.
Just before 23h00, all single women were called onto the dance floor for the traditional throwing of the Bridal bouquet as well for the groom to "search" for the garter under his wife's wedding dress.
Last, it was time to cut the wedding cake. Our cake had 3 tiers with each tier being a different flavour which included Tiramisu, mixed berry and dark chocolate. Additionally, Bettina's favourite dessert – Malva Pudding –  and cheese was offered on a buffet table.
While everybody indulged their sweet tooth, we started to collect the disposable cameras as well as the "best wish" cards which was handed out earlier. This tradition works as follows:
Every guest is asked to write something on the before handed out cards.
These cards are then collected and together with a good bottle of wine, are locked away in a box.
After 7 years of marriage, the married couple are allowed to open the box and while having a glass of the matured wine, read through all the cards.
By 02h30 in the morning, slowly but surely, everyone were making their way home or to their rooms on the estate. We, as the bridal couple, left our wedding party, after seeing that everybody arrived safely at their rooms, last. As we arrived in our honeymoon suite, we first had to fight our way through a mountain of heart shaped balloons to reach our bed.
Our wedding weekend ended with a last hearty breakfast with family and friends before everybody's departure home.
We managed to combine and include everything that was important and valuable to us.
We wished to celebrate and share our special day with our closest family and best friends on a marvellous sunny day in a perfect atmosphere.
We achieved making our wedding day memorable, especially to us.
Tips and / or advice for future bridal couples?
Start planning far in advance to avoid stress and minor or major pre-marriage fights.
Be prepared to pay more than you budgeted for.
Don't take anything for granted if you start planning, ordering, negotiating directly with service providers & hiring companies as well as your wedding planner. It is YOUR special day, so make and have it special!
And don't save on the photographer! He/She is the most important person after the bridal couple!
What was the most memorable part of your wedding day?
Siegie: At the beginning of the ceremony, when Bettina walked down the aisle to meet me in front of the theologian. She looked just stunning in her wedding dress and I was really proud that I could call this beautiful woman my wife soon."
Bettina: When my father escorted me to the front where Siegie was waiting. This, I always wanted! Our first dance.
Did you go on honeymoon? If so, where? And, why there?
A short honeymoon was planned for June 2012. This had to be postponed to the following year  due to a car accident in which the groom as well as his future brother-in-law and father-in-law were involved, 2 days before the wedding.
Luckily, nobody was injured but the groom's vehicle was less fortunate.
Destinations for the future honeymoon include a longer trip to the United States combined with the Caribbean ("Adventurous Mind") or a shorter one to the Maldives ("Relaxed Soul" ).
"Adventurous Mind" includes the idea of hiring a typical American RV for more independent travelling and to explore the country at our own time and pace.
"Relaxed Soul" will aim more for the relaxing, rejuvenating holiday with beaches, ocean & an occasional visit to the Spa.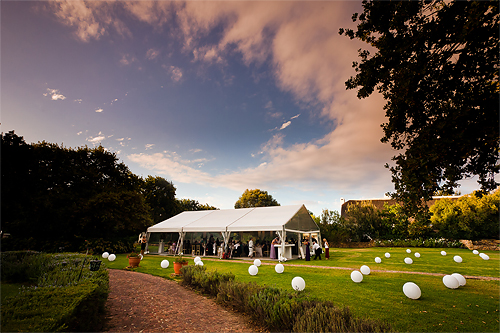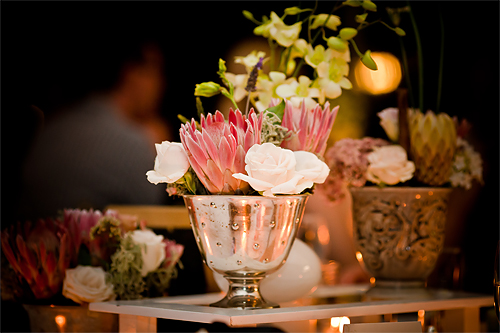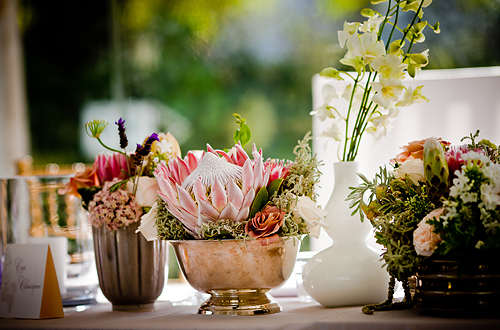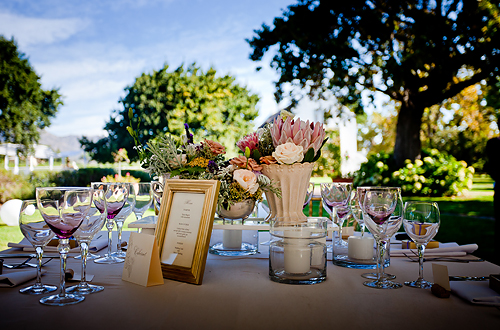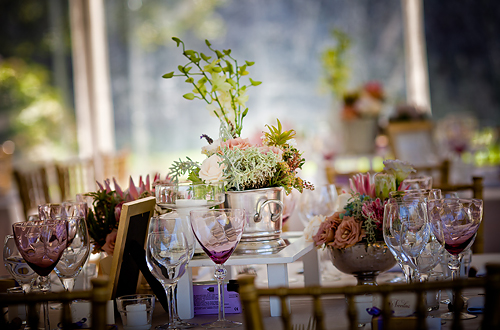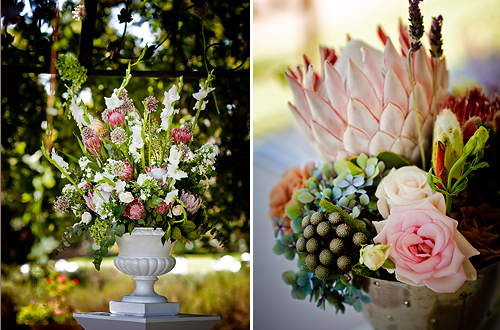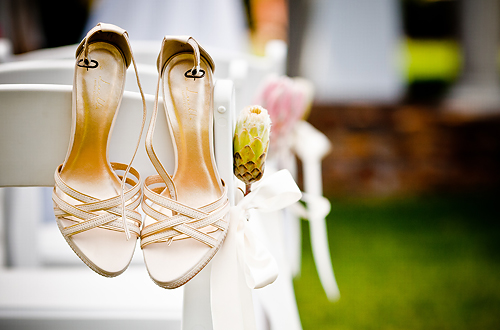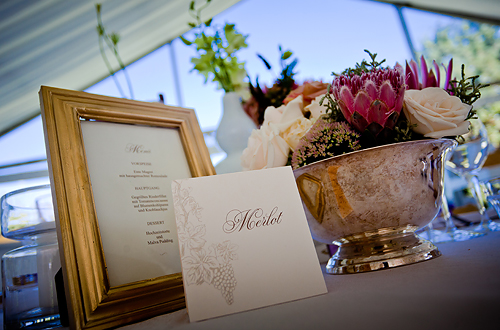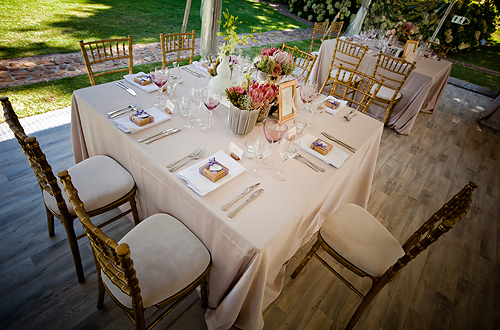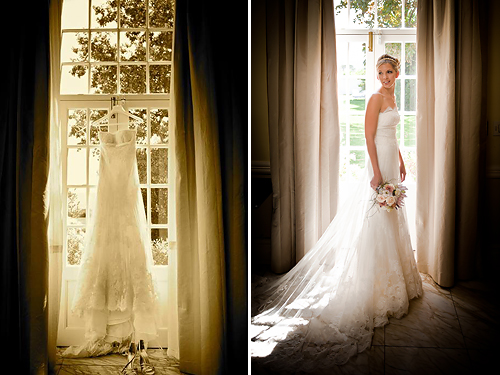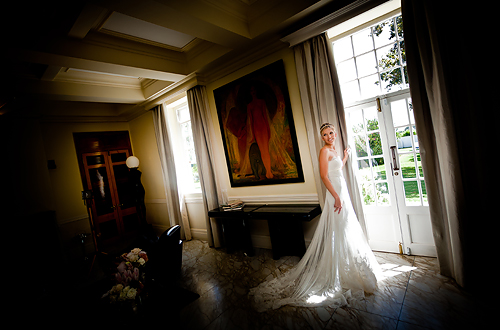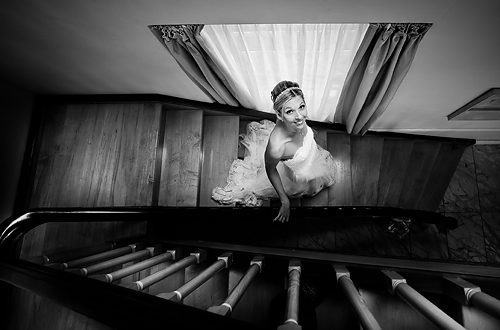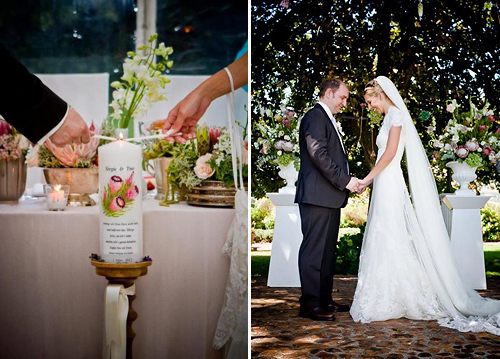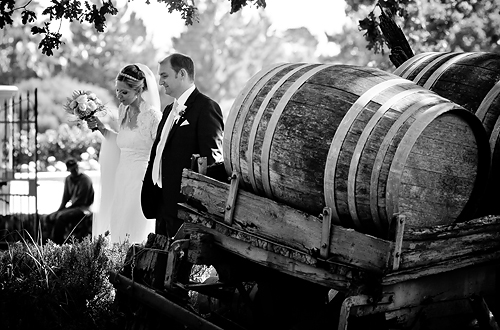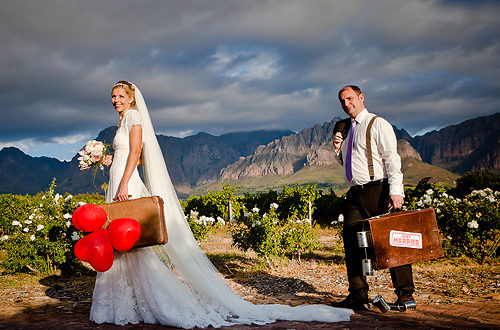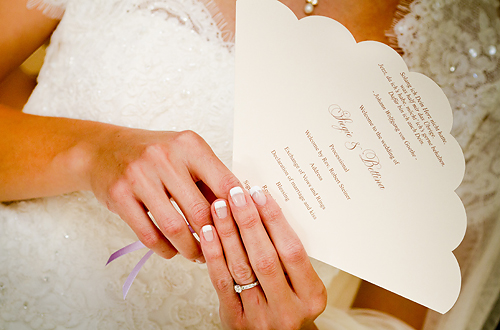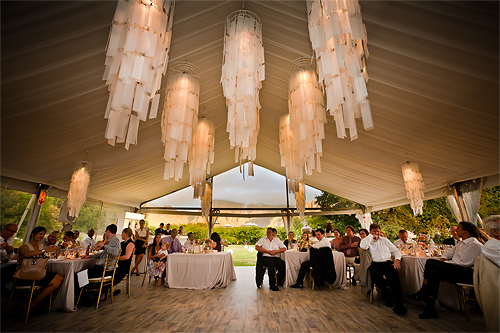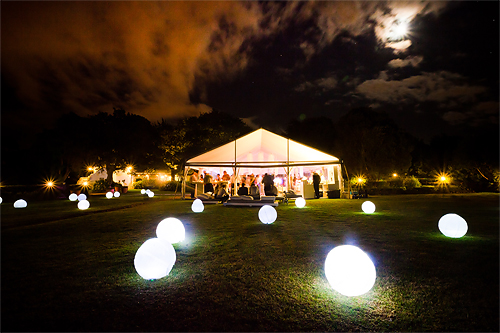 Wedding Information
Wedding co-ordination and design: Wedding Concepts
Wedding Venue: Palmiet Valley Estate Boutique Hotel, Paarl
Wedding Photographer: John Armstrong
Category: Cape Town Weddings